Along the shophouses in Purvis street, there's a lively little restaurant called Miss Clarity; the bright and energentic decor brings forth a great place for gatherings.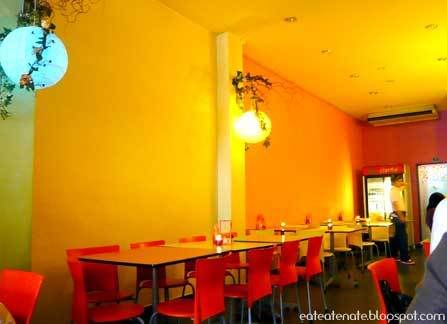 Looking through the menu, each of the dishes has its own unique name, such as '
Old MacDonald Had a Farm
', which reminds us of our childhood memories. To get our stomachs churning, we decided to settle on one set meal each.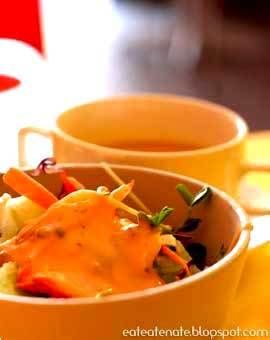 Salad / Soup (Add Ons), S$3 nett,
With just an additional of S$3 to every main course ordered (which makes a set), you will get yourself a bowl of soup or salad, a drink, plus a dessert of the day - which we thought was damn worth it.
Cream of Carrot
served was pretty good, reasonably thick and rich. As for the salad, it was nothing extraordinary, with the usual lettuces, carrot slices, and thousand island dressing.
Old MacDonald Had a Farm, S$16 nett,
Interesting name to fit this dish, it consisted of a "farm" for us to feast on, where there were beef steak, lamp chop, crispy chicken, chipolata (a kind of Italian sausage), bacon, ham and potato wedges, served with Clarity's special black pepper sauce topped with sunny side up.
Due to the complex medly of all the farm animals, the taste and quality also turned out to be a complex mixture. The pork was real tough, the beef and lamp were mediocure, but the rest of them were all pleasingly delicious. Portion was sure huge, and we only recommend this to big hungry meat eaters, or for friends who wants it for sharing.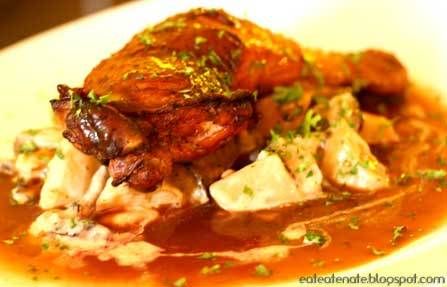 Roasted Chicken Leg, S$9.80 nett,
Yummy! We both proclaimed. Perfectly roasted whole chicken leg - crispy on the outside, and hot steaming tender on the inside. Everything just sinks into your teeth so smoothly, together with the wonderful companion of the sauce and mushroom and potato fricassee, we can't help wanting more and more of it!
VERDICT
Be it a quick dinner, a friends' hang out, or a social gathering, Miss Clarity Cafe is just the correct place, where decor and food comes together to give a good blend of visual, mood, and of course, joy to your stomach without burning a hole in your pocket.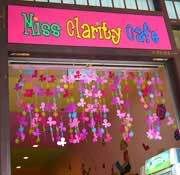 Miss Clarity Cafe - Bugis
#01-04
5 Purvis Street, S(188584)
(+65) 6339 4803
Mon - Sat: 11 a.m. to 11 p.m.
Sun: Closed
http://www.missclaritycafe.com
| | |
| --- | --- |
| Food: | |
| Ambience: | |
| Value: | |
| Service: | |