We've never been to a restaurant where the chicken steaks, fish fillets (especially salmon), and beef tenderloins cost exactly the same price. Even the lobster spaghetti cost the same price!
Cheesy Potato Wedges, S$4.80++,
A great sinful appetiser to start with - deep fried skin on potatoes, warm and fluffy, accompanied with a mass of melted cheese and a sprinkle of red chilli powder.
Chicken Shawarma, S$8.80++,
The pita bread, with a dry and stretchy texture, is known to be low in calories and full of fiber. According to the menu, it also contains selenium, which is essential for healthy immune functioning and even
helps infertile men improve the motibility of sperm cells
! (No wonder our guy friend insisted on ordering it. Haha!)
The main seemed like half a curry puff, loaded with chunks of roasted black pepper chicken, and clad in yoghurt dressing. Taste wise, not bad, but it could be better off if it was more moist. French fries were skinny and soggy, and the coleslaw didn't felt really fresh with traces of yellow cabbages.
Citrus Salmon Fillet, S$11.80++,
You have two choices of fish for this dish, either salmon or dory. We chose the former, and it turned out to be pretty disappointing. The
Citrus
sauce was already wrong to start with, sourly sweetness a total clash with the salty grilled fish fillet. Salmon was stale and hard, and again, it lacked moitsure.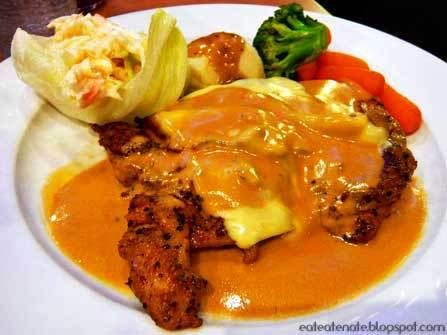 V8 Cafe Signature Dish, S$11.80++,
Something more comforting at last. V8 Cafe's new in house signature dish which consisted of freshly grilled chicken baked with bacon and cheese. The pool of special V8 sauce went in harmony with the tender meat, along with soft boiled vegetables, mashed potatoes and coleslaw.
FYI, all the main courses came together with a soup of the day - cream of corn for our case, and they tasted exactly like canned soup variations, perhaps even diluter.
The cakes on dispay looked darn tempting, so we decided to get one each.
American Cheese Cake, S$3.80++,
Though plain and boring, there are really nice
American Cheese Cakes
around. This one was just normal.
Chocolate Truffle, S$3.80++,
This didn't turned out as chocolatey as we thought it would be. However, the layers of cream and cake were firm, and they tasted quite delectable after awhile.
Green Tea Cake, S$3.80++,
Maybe it was too dry, because the cake collapse into bits of fragments when we sliced our fork through. There are balls of
Azuki
(red bean) paste at the bottom, pale green weird tasting cream in between, and green tea cake with green tea powder coated on top. I didn't really enjoyed it as a green tea lover.
VERDICT
With TV screens all around
playing movies
repeating the same movie, V8 Cafe created quite a unique concept. The movies are silent though, and they were useless without any subtitles sometimes. And sometimes they even screen gore and war shows while you are indulging in your meals. Nevertheless, the low prices for the atmospehere and average food served still makes it a good spot for a simple meal with friends. Just don't harbour high hopes.
V8 Cafe
#03-29, Parco Bugis Junction
200 Victoria Street, S(188021)
(+65) 6333 4434
Mon - Sun: 12 p.m. - 10 p.m.
| | |
| --- | --- |
| Food: | |
| Ambience: | |
| Value: | |
| Service: | |