The first launch of Waraku at East Coast in year 2000, kick-started it's business to the many more branches today.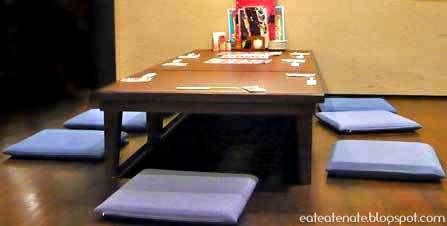 We were greeted by these interesting
Tatami
seats upon entering the reserved room. They weren't the traditional Japanese ones however, because I guess Singaporeans wouldn't want to kneel down in front of their food. So, Waraku improvised the Tatami seats by having a hole underneath the table, and the customers could slot their legs in and sit like on a normal chair. After all, Singaporeans want to eat in comfort.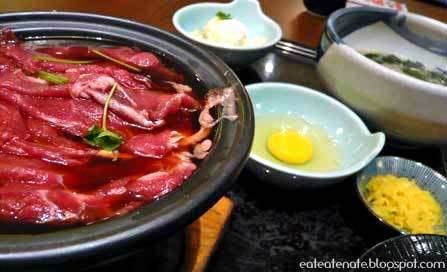 Gyu Yanagawa Wazen, S$16++,
This set comes with simmering raw beef, a raw egg to be put in, a bowl of
Udon
, rice, and potato salad. An interesting dish we would say. The beef was fresh and juicy when being brought out; with the add of an egg in it, it was heavenly. The
Udon
was the usual, nothing much about it. The potato salad was really nice, fresh and sweet - sure an appetiser to start with.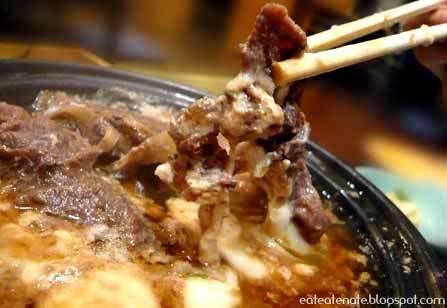 The yummy beef when cooked.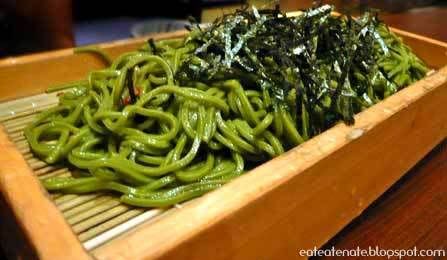 Cha Soba, S$9.80++,
Texture, thickness and elasticity of these cold noodles were perfect. The
Soba
sauce, with a dip of it, simply brought out this
Cha Soba
's very best. One bite and you will know. Excellent!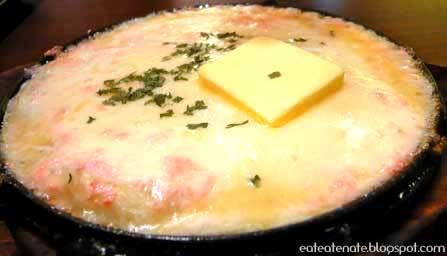 Potato Mentai, S$8.80++,
Potato slices, topped with baked cheese and a piece of butter, made this one of the very popular side dish here. However, the potato slices were rather raw, and we felt this dish could be better if the potatoes were softer.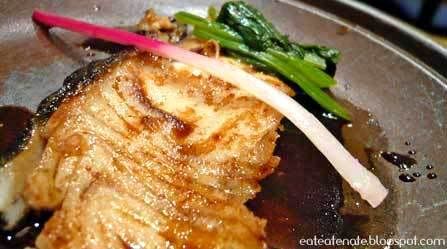 Gindara Teriyaki, S$11.80++,
Small small piece of cod fish steak, heated on a claypot with slow fire. It was good - nice and warm as it entered our mouths, but the quantity we got wasn't really worth the S$11.80++.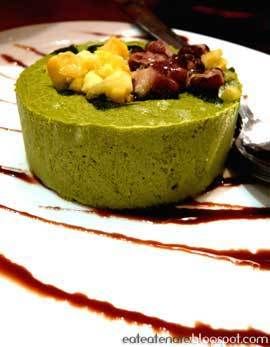 Matcha Ice Cream Cake, S$6.80++,
More like "
Ice Cake
" to us. No taste of "
Matcha
", no presence of "
Cream
", just little ice bits in the shape of a cake. The corns and red beans didn't integrate in well either.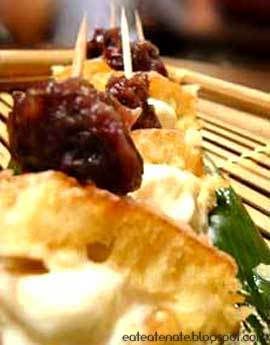 Dorayaki Ice Cream Tempura, S$5.80++,
You have the eat this quick - else the ice cream would melt to a horrible state in no time, (because of the warm fried outer
Dorayaki
,) and when you try to pick it up with that small feeble toothpick, everything falls down into a clumsy plop.
VERDICT
Cha Soba
was the best bet of the day; the set meals were the value for money ones, with portions enough to feed 2 not-very-big-eaters; and the desserts were below average. All in all, Waraku serves good authentic Japanese food, in a friendly dining environment, suitable for everyone - couples, friends, and families.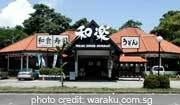 Waraku - East Coast
1020 East Coast Park Way, S(449878)
(+65) 6242 1123
Mon - Sun: 11.30 a.m. - 11 p.m.
http://www.waraku.com.sg
| | |
| --- | --- |
| Food: | |
| Ambience: | |
| Value: | |
| Service: | |