We'd enjoyed
our first trip to Tetsu
, and for the second time, we were invited back here in this surprise-filled restaurant to sample their very own
Festive Menu
. It was exciting as we sat back in anticipation and await the 8-course journey to unfold.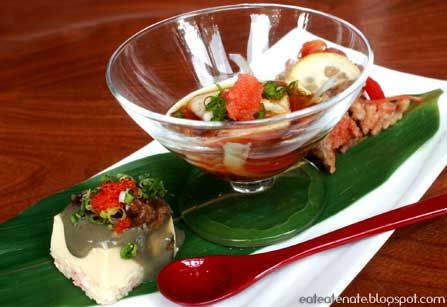 Kani Tofu, Swordfish Tataki, Sake Namazuke
(Part of Tetsu Christmas and New Year Set), S$58++,
Don't be deceived by the tiny sizes of these three appetisers - they got our appetites kicking up in big churns! It might be the sour factor that played off so well with the fresh
Swordfish Tataki
and
Sake Namazuke
(Salmon with vinegar), while the
Kani Tofu
evened out the acidity levels pleasantly.
In fact, the
Kani Tofu
WOW-ed us with so much amazement that we began to doubt our own taste buds being 'haters' of century egg and plain tofu - yes, the gray stuff is actually blended century egg. Speak about creations!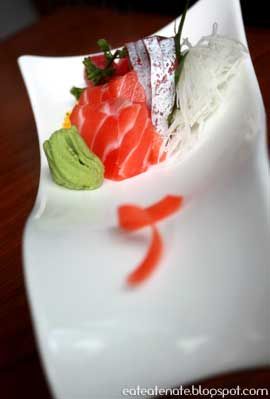 Sashimi Moriwases (Part of Tetsu Christmas
and New Year Set), S$58++,
Salmon
sashimi
, tuna
sashimi
, and yellowtail
sashimi
presented in an artsy manner. The raw fish slices were fresh in general, but the tuna one lacked a special kind of firmness which we personally like.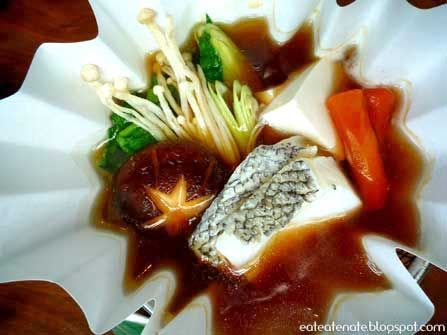 Gindara Sukiyaki (Part of Tetsu Christmas
and New Year Set), S$58++,
The nub of this flavoursome paper pot soup came from the sweet cod fish slices, which melts snowily between our tongue and palate.
Rosu Katsu with Ebi Katsu and Garlic Fried Rice
(Part of Tetsu Christmas and New Year Set), S$58++,
When we saw these being served, we could already feel the bloatedness up mentally. For the
Rosu Katsu
(pork loin), it turned out to be dry and rigid, completely opposite from what we'd expected after trying out the
Hire Katsu previously
. The
Ebi Katsu
(shrimp) fared much better, but above all, we still appreciated the extremely light batter used.
Despite knowing the amount of carbos present in that bowl of sinful
Garlic Fried Rice
, we couldn't resist its fragrant temptation! It was a breeze wolfing down three quarters of this awesome mishmash of garlic, rice, eggs, and spring onions. But sadly, just when we thought all was good and dry, we found oil soaking at the very last quarter.
Dragon Roll (6 pieces) , S$18++,
The
Dragon Roll
was heavenly, celestial, and whatever deific terms you could think of to describe this!
Ebi
(shrimp)
sushi
s laid in the resemblance of a majesric dragon, topped with crispy
Tempura
crumbs, cod roe, and a drizzle of Japanese mayonnaise.
Shiok shiok SHIOK
! This had become our 'favouritest' dish of the afternoon!
Homemade Sesame Ice Cream (Part of Tetsu Christmas
and New Year Set), S$58++,
I guess this
Homemade Sesame Ice Cream
was a well made one considering the presence of sesame bits in addition to its very strong flavour. However, the taste is strongly personal. I hate black sesame, so it sucked, but Lionel found it quite nice. Hence, it really has to depend.
Banana Tempura and Ice, S$7.80++,
Perhaps by the end of a complete 8-course meal, we were way too full to take in any more taste. The
Banana Tempura
was okay lah - resembled much of the Japanese version of
Goreng Pisang
served with a scoop of vanilla ice cream.
VERDICT
Even though this meal was on Tetsu, me and Lionel both agreed that we seriously wouldn't mind paying for it; because we know what we're paying for - quality. Anyway, with Christmas and New Year rolling in at such a time together with your bonuses, it sure does call for a reason to luxuriate doesn't it? And FYI, this
Tetsu Festive Menu
is available from 23 December 2008 till 2 January 2009.
Enjoy your year-ends everyone!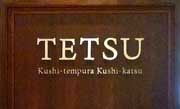 Tetsu
#03-18, Tanglin Mall
163 Tanglin Road, S(247933)
(+65) 6836 3112
Mon - Sun: 11.30 a.m. - 10 p.m.
http://www.tetsu.com.sg
| | |
| --- | --- |
| Food: | |
| Ambience: | |
| Value: | |
| Service: | |