Along the stretch of shophouses in Killiney Road, lies the famous
Chee Cheong Fun
stall most of you have heard of. Decided to check it out one fine afternoon, and before I knew it, I was already returning back time and again for more!
Staff were speedy and attentive. The very instant we sat ourselves down, we received our menu almost at the same instant.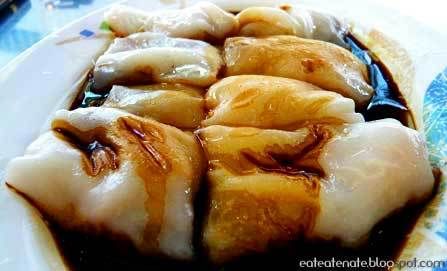 Fresh Prawn Chee Cheong Fun, S$4.20 nett,
Chose the
Fresh Prawn Chee Cheong Fun
, cause we thought that it was a traditional and most common filling which many people would go for. This plate of plain looking rice roll doesn't look exactly appealing without its dressing of sesame seeds (my friend didn't like sesame). However, don't be too quick to judge until you try your first mouthful.
Thin silky folded sheets of rice flour slip quickly into our mouths, and together with the company of soya sauce, it was simply indescribably
shiok
.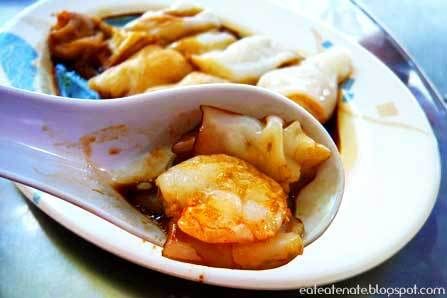 Prawns were full of crunchiness, but they weren't exactly the super fresh and juicy kind. Because the fillings were laid in big sheets of rice flour before cutting, you might find up to three prawns in some (cutted) portions, and in some, you find none.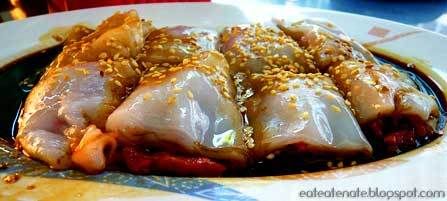 Char Siew Chee Cheong Fun, S$3.20 nett,
Now now, another traditional flavour, and this, I swear, was seriously heavenly.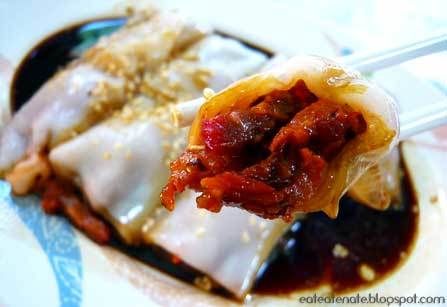 The
Char Siew
(barbecued pork) was lean, yet with the appropriate amount of springyness and moisture. And the thing is, the meat blended in so flawlessly with the rice roll and the sauce, making it a perfect combination. We were pratically raving about it from the very first bite, till the last bite.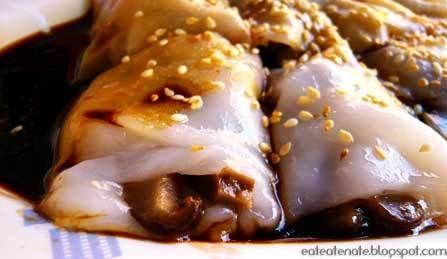 Mushroom Chee Cheong Fun, S$3.20 nett,
It was a mere personal liking for mushrooms that made me ordered this.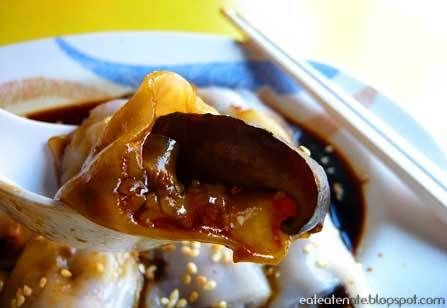 It turned out to be just mediocre - not anywhere near bad, but not extraoridnary either. The mushrooms were a bit too hard.
What makes this
Chee Cheong Fun
stall stands out from the rest, is their assortment of innovative fillings to choose from. There is the savoury type served with soya sauce and a sprinkling of sesame seeds -
Cheese Lobster (S$12)
,
Tom Yam Seafood (S$8)
,
Braised Intestines (S$6.50)
,
Abalone (S$6)
,
Otar (S$6)
,
Fresh Scallop (S$6)
,
Unagi(S$5)
,
Crab Meat Stick (S$3.20)
,
Chicken (S$3.20)
,
Mixed Vegetables (S$3.20)
,
Fritters (S$3.20)
, plus the three reviewed flavours on top.
For the sweet-toothed, there is also the dessert variant served with crushed peanuts. The fillings include
XO Durian (S$4.20)
,
Mango (S$3.20)
,
Strawberry (S$3.20)
,
Banana (S$3.20)
,
Apple (S$3.20)
,
Yam (S$3.20)
, and
Green Tea (S$3.80)
.
Despite many encouraging reviews of the
XO Durian Chee Cheong Fun
, which was also what this eatery is famous for specializing in, we were still quite reluctant to try. Went ahead with something safer to 'test out' first.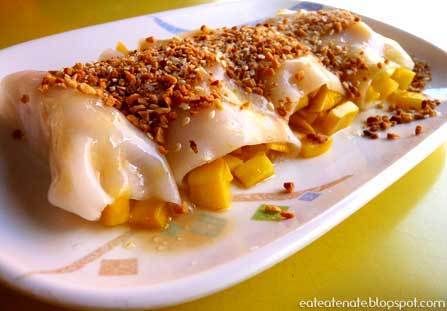 Mango Chee Cheong Fun, S$3.20 nett,
Sad to say, the
Mango
one wasn't very impactful on us, and we conveniently skipped the
XO Durian
one as well. Even with slight exuding juice from the mango cubes, the
Chee Cheong Fun
still felt rather dry, and the crushed peanuts worsened it. Then again, it might be a biased view, because I don't like peanuts.
Green Tea Glutinous Rice Balls, S$3 nett,
Four pieces of
Green Tea Glutinous Rice Balls
served in a bowl of traditional sweet peanut soup. (Peanuts again!)
Green Tea
paste was gooey and sticky, and
Rice Balls
were a tad hard.
VERDICT
Whack any of these
Chee Cheong Fun
flavours in random, and you are sure to find your hidden favourite here. If you need something more substantial, try the porridge which also comes in a variety of ingredients. Or, you could also order from its special selection menu for sharing in a group, with dishes like
Stir-fried Vegetables
,
Jelly Fish
,
Drunken Chicken
,
Frog Legs
(just to quote a few examples).
House of Rice Roll and Porridge
75 Killiney Road, S(239529)
(+65) 6736 1355
Mon - Sun: 8.30 a.m. - 11 p.m.