You should never visit IKEA with a full stomach, because you'll regret missing out the food served there. I guess many of us Singaporeans should be pretty familiar with this IKEA restaurant, and many of us wouldn't mind the long queues during lunch and dinner times (especially on weekedends).
Poached Salmon, S$6.90 nett,
The salmon meat wasn't really fresh, and they broke into brittle bits when we sliced our forks through it. Potatoes were a tad dry; broccoli was cold. However, the
Chive Butter Sauce
rounded everything up and brought them together in unison.
Swedish Meatballs (10 Pieces), S$6.50 nett,
This is one of our personal favourites, and we are sure most of you agree. Beefy meatballs, dipped in heavy sauce and lingoberry jam - a classic combination that sends you craving for more.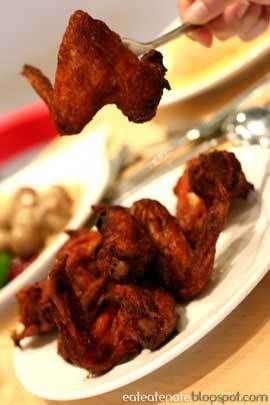 Chicken Wings (6 Pieces), S$7.50 nett,
We never fail to order the fried
Chicken Wings
from IKEA too. Hot yummy juice oozing out with every bite. These wings are less oily and much healthier than the usual fried ones you find.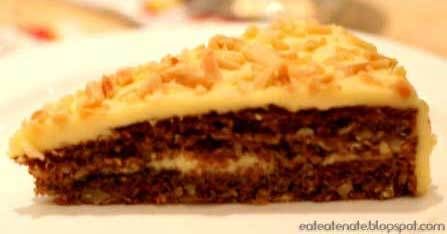 Almond Cake, S$3.20 nett,
The
Almond Cake
turned out to be surprisingly pleasant, especially for a non-nut-lover like me. This dessert was crumbly and delicious, and the top was coated with a rich moist layer of studded almond nuts.
VERDICT
Don't hold too much expectations for the word 'restaurant'. No pretty ambience and no serving waiters / waitresses - You have to wait for your own seats among the crowds; you have to queue up for your own food; you have to clear your own plates after the meal (though a lot of Singaporeans do not practice that). This place is self service, and it's more like a canteen kind of concept. Nevertheless, the prices you pay for the quick bites and resting place you get, are definitely worth your time and money.
IKEA Restaurant & Cafe
Level 4, IKEA Tampines
60 Tampines North Drive 2, S(528764)
(+65) 6786 6868
Mon - Sun: 8 a.m. to 10 p.m.
http://www.ikea.com.sg
| | |
| --- | --- |
| Food: | |
| Ambience: | |
| Value: | |
| Service: | |