What does a Pinky Pig got to do with a café famous for its Prime ribs? But that question didn't matter when we went ahead to enjoy the UOB 1-for-1 promotion over at Holland Village branch.
Be welcomed by Hog's Breath Café Holland Village's signature laidback ambience, as you step into a totally different snug and homely state; with wooden furnishings and idiosyncratic displays of memorabilia (such as retro gramophones, old record covers, posters of Aussie outback) to polish off the vibes.
Since it was a 1-for-1 main course promotion, being the gluttony (
kiasu
) us, five of us decided to whack six dishes at one go, where the following were what we ordered: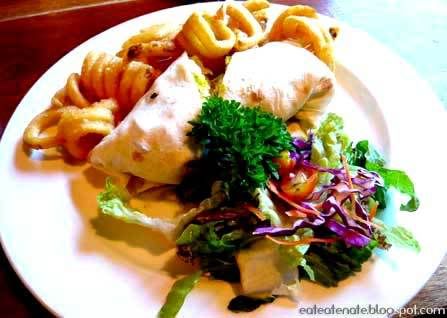 Chicken Caesar Wrap, S$12.90++,
This was something like the "
Ang Mor
" version of "
Popiah
" - with a flour tortilla acting as the skin wrap, and with fillings consisting of sliced chicken breast with cos lettuce, bacon bits, croutons, parmesan cheese and caesar dressing. Juicy yet not soggy, this
Chicken Caesar Wrap
had just the adequate balance between crunch, firmness, and succulence.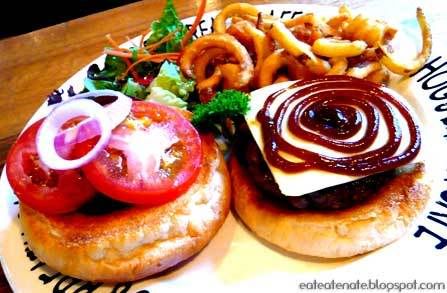 Cheese Burger in Paradise, S$14.50++,
Two slices of crusty burger bread - one topped with beetroot, tomato, and onion rings; while the other was stacked with a slice of thick tender beef patty, followed by sliced cheese, and a swirl of BBQ sauce. Served together as a side, was the
Hog Tail Fries
(a name given for the restaurant's curly fries), which stayed crispy till the very last bite!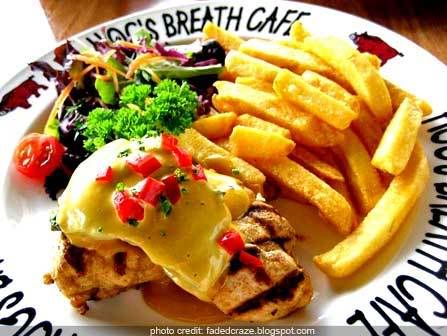 Chicken Dijonnaise, S$20.50++,
We (were too busy eating and) didn't manage to take any photos of this dish. The marinated grilled chicken breast was rather tough, but it was delectably topped with avocado and smothered with creamy Dijon mustard sauce.
Jamaican Chicken, S$20.50++,
These grilled chicken breast were marinated in sweet Caribbean seasoning, and were softer than the ones in the
Chicken Dijonnaise
. Served over seasoned rice, and topped with warm creamy mango sauce; there were salad and a smooth velvety mashed potato to complete the meal.
Atlantic Salmon, S$20.95++,
What's likeable about this
Atlantic Salmon
was that it being grilled till a crisp layer was formed outside, yet retaining its freshness and fluffiness on the inside. For those who likes a slight tinge of sourness to your salmon, there's lime hollandaise sauce put aside just for you.
Tex-Mex Combo, S$26.00++,
Due to a few non-beef eaters, this was the only dish we ordered that consisted of Hog's Breath renowned beef steaks.
A generous portion where you will get to choose between chicken or chunky beef
chimichanga
(a deep fried
burrito
(Mexican wrap) that originated in Tucson, Arizona) - topped with cheese sauce and tomato salsa, to go along with a luscious sirloin steak - how "well done" you want it is entirely your call. And to further pile on the carbos, there was one big fat baked potato with mayonnaise, and even a hidden serving of Cajun rice.
VERDICT
Funny how we rated most of the dishes 'three-and-a-half hearts out of five'. We thought that all the food were above average, and we don't have a bad thing to say about Hog's Breath. In conclusion, a great place for the big appetites (and meat lovers), where your hunger will definitely be satisfied, but do not overeat, else you will end up like the mascot of this café.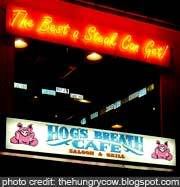 Hog's Breath Café - Holland Village
267 Holland Avenue, S(278989)
(+65) 6466 0145
Sun - Thur: 11.30 a.m. - 12 a.m.
Fri - Sat: 11.30 a.m. - 1 a.m.
http://www.hogsbreath.com.sg
| | |
| --- | --- |
| Food: | |
| Ambience: | |
| Value: | |
| Service: | |