After two advertorials done by a famous blogger, we were dying to try out the highly rated food at Indulgz Bistro. But since they were advertorials (meaning the restaurant treated the blogger to their food), it COULD be a biased view. Therefore, we decided to come take a look ourselves.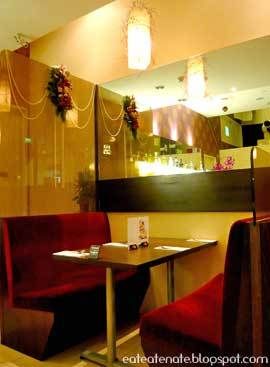 Surprisingly, the restaurant turned out to be much smaller than what we initially expected. However, the beautifully decorated interior gave us both a very warm and fuzzy feel.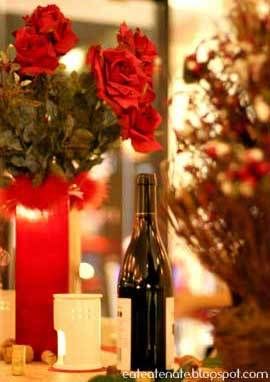 The ambience and music here totally sets the right mood in for a romantic dinner for two, or a peaceful get-together with your friends.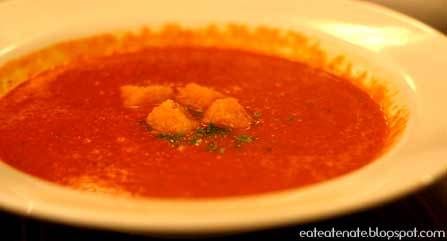 Tomato and Fresh Basil Soup, S$5++,
This smooth and sour
Tomato Soup
sure served as a great kick starter, awakening your taste buds for more food ahead.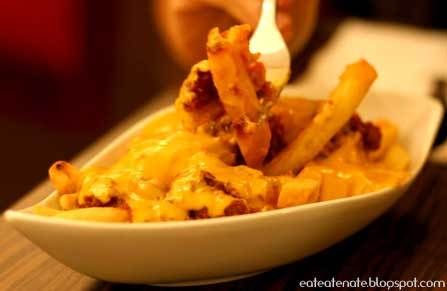 Beef Bolognaise Melted Cheese Fries, S$8.80++,
Both of us got hooked instantly on our very first mouthful. Beefy homemade
Bolognaise
matched flawlessly with the pleasingly warm
Melted Cheese
. The
Thick Cut Fries
, was soft and fluffy, but never soggy. Oh! How so sinfully delicious!
Prawn and Crabmeat Pasta in Lobster Bisque Sauce, S$19.90++,
Nice as it sounded, yet disappointingly, it tasted horrid to the max. The
Linguini
was dry and hard; thse
Lobster Bisque Sauce
was as tasteless thickened tap water; and the
Prawn and Crabmeat
were equally tasteless as well (or perhaps they're too small to be even seasoned/marinated).
Baked Honey Garlic Chicken, S$19++,
A decent main course we would say. It was a whole piece of chicken leg, and the thoughtful part was that, the bone was removed. The meat was tenderly baked, just that it wasn't distinguishly
Honey Garlic Chicken
. Sides like mashed potatoes and boiled carrot sticks were of the norm.
VERDICT
Overall presentation was nifty and attractive, but the food was nothing to shout about, really. And for that kind of average food standard, the menu was considerably overpriced. Anyhow, Indulgz Bistro is still worth a visit if you wish to impress a date. "
Ho kua, bo ho jia
" - (In
hokkien
, "Nice to look at, not nice to eat".)
Indulgz Bistro
#01-01, TQL Suites
9 Tan Quee Lan Street, S(188098)
(+65) 6238 7032
Tue - Fri: 11.30 a.m. to 11 p.m.
Sat - Sun: 12 p.m. - 11 p.m.
Mon: Closed
http://www.indulgz.com
| | |
| --- | --- |
| Food: | |
| Ambience: | |
| Value: | |
| Service: | |