Tucked deep within the
ulu
industrial estates of Defu Lane, Seafood Paradise proves to you the reason which draws in swarms of hungry Singaporeans every evening.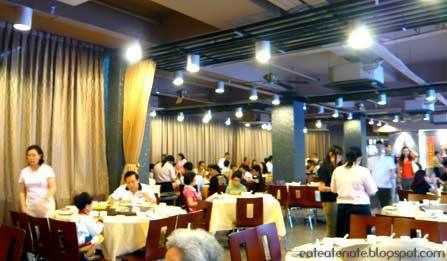 The nicely renovated air conditioned interiors took us aback for a moment. It was like stepping into "paradise" (well, almost) among the midst of unappealing factories and warehouse buildings (outside).
Braised Ee-fu Noodle with Crab Roe (Medium), S$15+,
Springy brown
Ee-fu Noodles
, bathed in thick heavy crab roe ("fats" from small shore crabs). Who would have thought of such a delicious slurpy combination?
Claypot Drunken Prawns, S$6+ per 100gm (+S$2 Herbal Soup),
One of the restaurant's most popular dishes (according to the staff), was delivered to our table in hot bubbling soup, served straight from a claypot. Find yourself savouring every bite of these juicy drunken prawns, accompanied with heavenly bursts of herbal fragrance.
Stewed Whole Chicken with Ginseng, S$28+,
I love chicken when they are stewed to extreme softness, where the skin, flesh and everything just slips off readily. This chicken had made it. However, the herbal taste of this dish overrode any possible presence of the
ginseng
(if it's even there in the first place) - so much so that I thought that the word '
Ginseng
' shouldn't be placed in the menu (to deceive customers).
Braised Seafood Cucumber with Mushrooms
on Broccoli (Large), S$48+,
This
Braised Seafood Cucumber with Mushrooms on Broccoli
, was labeled as an immediate rip-off the moment we saw its pathetic portions. Sea cucumbers, given in stingy amounts, were disappointingly tough, rubbery and rather raw. Chinese mushrooms and broccolis fared slightly above average, but they were inexpensive stuffs. S$48++ for this kind of "no quantity nor quality" dish, is a definite NO-NO.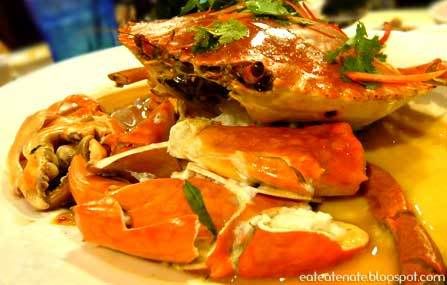 Original Paradise Steam Crab, S$3.60+ per 100gm,
"Crabs Specialist", as what the restaurant claims itself to be. How could we miss out ordering any crabs from them? Indeed, they had lived up to their name.
Oringal Paradise Steam Crab
offers meat that's succulent and sweet, which sends instantaneous relishes once you attempt your first suck. And underneath this hard-shelled creature, was a layer of smoothly steamed egg - modest, yet able to compliment the lusciousness of the crab. I liked the fact that the entire steamed dish felt very light and pleasant, not those heavy greasy ones.
Popular Chilli Crab, S$3.60+ per 100gm,
After a research from the web, I found out that the
Chilli Crab
is an original creation from the restaurant, because they use sambal chilli.
"Instead of being cooked with ketchup and vinegar, the chilli sauce here is flavoured with dried shrimp instead."
No wonder it tasted different.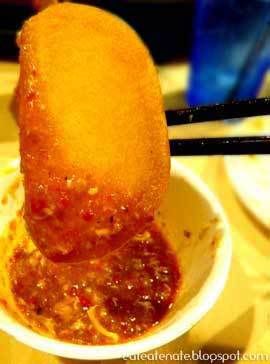 Deep Fried Bun, S$0.80+ each,
The
Deep Fried Bun
, or what we refer to as the
Man Tou
, is a MUST when you order chilli crabs. These buns, fried to crisp golden excellence, when dipped into the egg-thickened chilli sauce - "
Shiok
"!
VERDICT
Though seafood is an apparent focus of this restuarant, Seafood Paradise excels in other non seafood dishes as well. Creative menu, with vast choices. Service, however, was bad - probably because we were seated too far back in the restaurant, or probably because they do not charge 10% to your bill for that. As a point to note, please make your reservations beforehand, else you'll find yourself caught up in a human flooded wait.
Seafood Paradise
Swee Hin Building
91 Defu Lane 10, S(539221)
(+65) 6487 2429
Mon - Sat: 12 p.m. to 11 p.m.
Sun: 5 p.m. to 11 p.m.
| | |
| --- | --- |
| Food: | |
| Ambience: | |
| Value: | |
| Service: | |