For a change, I thought I would order something else rather than the usual Pizza Hut.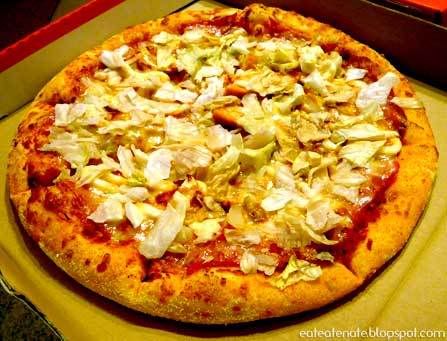 Winter Special (12" Medium), S$30.50 nett,
Judging from the name
Winter Special
, I supposed this was a pizza created exclusively for this season of "Winter". (Is it still winter now? I don't even know.) Anyway, it's just a wild guess. Back to the pizza - topped with cheese, lettuce, turkey bacon, lettuce, chicken ham, lettuce, cheesy sausage (no signs of it), lettuce, pineapple, lettuce, mayonnise, and lettuce. On the first look, I thought they had given me a vegetarian (lettuce) pizza by mistake.
Apart from the not very appealing sight,
Winter Special
turned out to pretty alright. One thing which caught everyone's instant liking was the pizza crust - fine crisp delivered the moment my teeth sank in.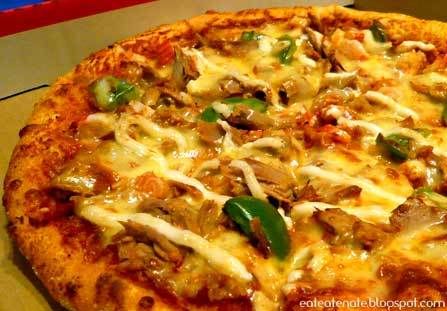 Ocean Delite (12" Medium), S$0.00,
Since it was "Buy One Get One Free", this was free.
Ocean Delite
- a juicy mix of shredded tuna, onions, crunchy green peppers, covered with hot melted cheese, garlic powder and thin mayonnise. However, I thought that this failed to proclaim itself as a seafood pizza. There wasn't the slightest tinge of seafood greatness in it, at all. (Shrimps and crabsticks stated as two of the toppings in the pizza menu, were nowhere to be found.)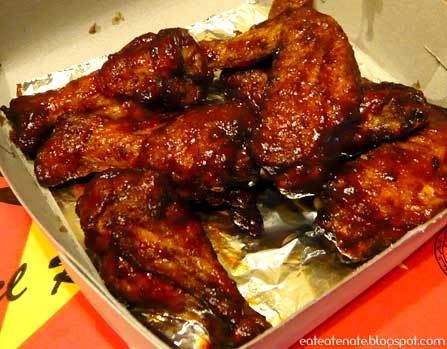 Chicken Wings (3 Pieces), S$4.50 nett,
I was having some reservations when ordering this, because I was expecting just three small drumlets for the price of S$4.50. Luckily, to our delight, three pieces
Chicken Wings
really meant three whole pieces (inclusive of both drumlets and wings). Taste wise, it was considerably good (if you don't compare them to Pizza Hut's), with the sweet BBQ sauce smeared all over.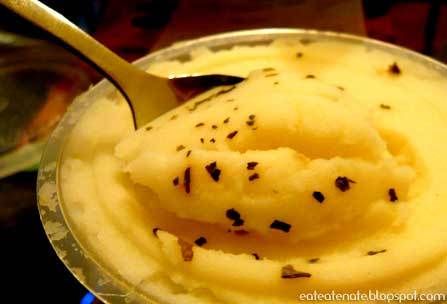 Mashed Potato, S$1.50 nett,
Fuffily mashed potatoes, a pity it doesn't come in any gravy. Initial mouthfuls were still acceptable, but the later part was it too dry to even continue.
VERDICT
Maybe we ordered the wrong flavours or from the wrong branch, because from the pictures
here
, I was expecting a whole lot more chunk of cheese. Rite Pizza didn't seem very truthful nor generous in the ingredients they gave. Nevertheless, the prices were pretty reasonable. No GST, no delivery charges - all nett from the menu.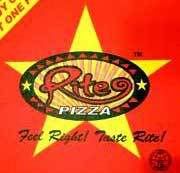 Rite Pizza
Home delivery to all areas islandwide
(+65) 6899 3838
Mon - Sun: 10.30 a.m. to 10.30 p.m.
http://www.rite-pizza.com
| | |
| --- | --- |
| Food: | |
| Value: | |