Secluded in a private estate, the cluster of restaurants at Greenwood Avenue look everything like they're only meant for the rich and posh.
It was lucky for us to discover Peperoni Pizzeria, a warm cheerful family restaurant serving hearty Italian fare, with prices friendly to our pockets.
We opted for the Al Fresco dining, which was coupled within an Italian styled courtyard - warm painted walls with vines and leaves to complete the cosy feel. A perfect place to enjoy a big sumptuous dinner in total serenity.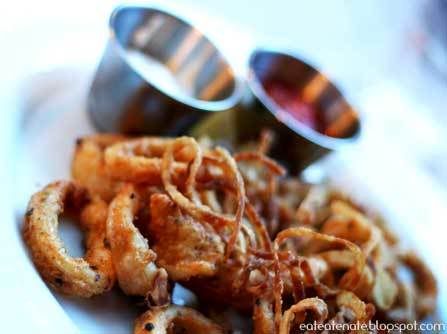 Calamari Fritti, S$12 nett,
Squid rings, together with onion thins, were deep fried till crisp golden goodness. The batter used was well seasoned and coated thinly, so it doesn't feel too heavily floured. At the same time, the texture and taste of the squid were distinct. You could feel them all fresh and springy inside, and it was sure a joy to dip them in the lemon mayo and tomato sauce provided alongside.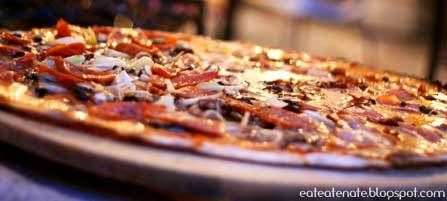 Suprema and Salmon Family Pizza (21" XXXL), S$44 nett,
When the staff delivered the pizza to our table, she jokingly exclaimed, "This was meant to be a surpirse for you!" Seriously, we never knew such a humongous piece of pizza actually existed, and glad to say, it was certainly a pleasant surprise. To help you visualise,
here's a photo
of the pizza in comparison to a human.
The restaurant specializes in thin-crust pizzas, served piping hot from the traditional wood-fired oven - the kind that will explode in crumbles inside your mouths.
We chose two flavours for the family pizza,
Suprema
for one half, and
Salmon
for the other half. Both halves were tomato sauce based topped with mozzarella cheese; with the
Suprema
side consisting of
Shitake
mushrooms, chicken and garlic sausages, onions, and red chilli; while the
Salmon
side was covered with sliced smoked salmon, caramel onion, and capers. It was definitely a well mix of abundant toppings with crispy pizza crust! Crunch!
(By the way, the pizza was too large to be completed by both of us, so we had them packed home in two separate regular pizza boxes.)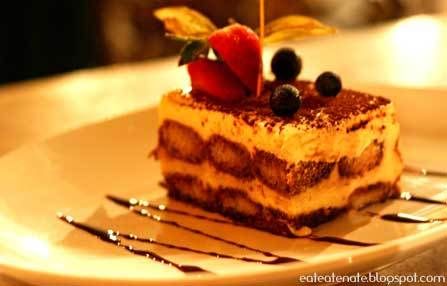 Tiramisu, S$8 nett,
Savoiardi
(lady fingers cookie) soaked in coffee, mascarpone cheese, and a dusting of cocoa powder made up this delicate Italian dessert. The
Tiramisu
here tasted just as nice as it appeared, except that the alcohol taste wasn't very evident.
VERDICT
A restaurant which deserves a praise in every aspect. Delicious food served by warmhearted approachable staffs, in a homely laidback environment, and with menu prices you wouldn't mind paying for (such quality). Peperoni Pizzeria is definitely worth your visit!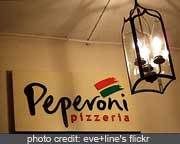 Peperoni Pizzeria
Hillcrest Park
6 Greenwood Avenue, S(289195)
(+65) 6465 6556
Mon - Sun: 12 p.m. - 12 a.m.
| | |
| --- | --- |
| Food: | |
| Ambience: | |
| Value: | |
| Service: | |