Had the honour of attending a food tasting session of this youngly established restaurant over the week. Having tried a handful of Japanese restaurants, we started wondering what's the big deal about being Singapore's first to offer authentic Kushi-style
Tempura
and
Tonkatsu
menu, prepared "live" before your eyes.
The initial impressions of the restaurant's settings was grand but not overawing, and as we walked in, we were greeted by all the friendly staffs in the usual Japanese affair to make us feel in place.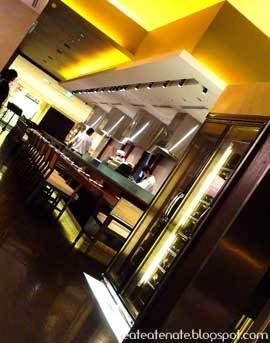 Tetsu provides one of a kind experience by having diners seated in counter bars and watch their meals being prepared in close proximity to the chefs.
Interior was designed by a distinguished Japanese architect who also designed the
Sun with Moon
restaurant.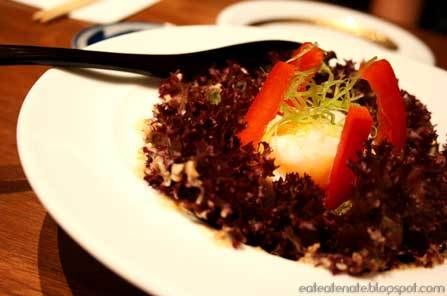 Onsentamago Tofu Salad, S$13.50++,
Onsentamago Tofu Salad
refers to hot spring egg, where it is traditionally cooked in hot spring water. Since we do not have any in Singapore, the chef has to bear the extra effort by putting his bare hand into the water and only lift off when he can't take the heat anymore, so as to stimulate the temperature (of about 70 - 75 degrees celsius) of hot spring water.
The smoothness of the egg is really worth mentioning. The whites were soft while the yolk was just slightly cooked, and it formed a creamy combination with the cold tofu and sesame sauce.
Next up would be our 5-course
Kaiseki Set (Course C)
from the dinner menu, which consisted of the following:
Assorted 4 ~On a Palette~ (Appetiser of Kaiseki Set C), S$55++,
Packed in a hand-made
Jubako
box, there are a total of 4 exquisite appetisers for you to enjoy. Each of them however, are subjected to changes as the chef creates them from the freshest produce of the season to woo your taste buds and give them a refreshing treatment before the main course.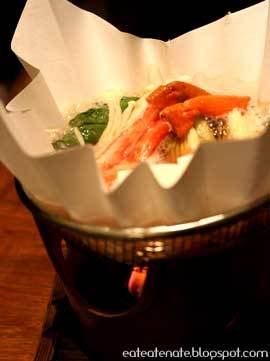 Kani-Suki (Paper Pot of Kaiseki Set C), S$55++,
Allow 15 minutes for the essence of snow crab legs in this
Crab Sukiyaki
to be brought to full potential. With the snowy white meat and fresh seasonal vegetables, the soup tasted delightfully sweet and flavourful.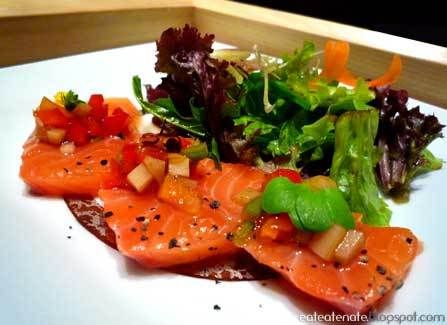 Salmon Carpaccio (Middle Dish of Kaiseki Set C), S$55++,
Originally
Tuna Carpaccio
, the fish was switched to
Salmon
as recommended. Unlike the normal salmon
Sashimi
s, this dish is a creative fusion of Japanese and Italian, with a stir of capsicums, garlic, French dressing, and black pepper. We love how the richness of the Salmon first set in, followed by the sourness and then finally finishing off with sweetness. What a good workout for the taste buds.
Kushi-Tem Tempura (Main of Kaiseki Set C), S$55++,
The climax of this
Kaiseki Set
would be this main dish. There are two styles to choose from -
Kushi-Age
(breaded style) or
Kushi-Tem
(
Tempura
style). We ordered the latter, and it came with air-flown scallop from Japan, premium meats (salmon, beef and pork fillets), prawns, and seasonal vegeatables (zucchini and green pepper).
These
Tempura
s were exceptionally juicy and crusty, and the batter felt very fine. When it comes to the procedures for consuming
Tempura
s, there is really quite some knowledge behind it. We listened as the chef presented various sauces and dippings, and it was interesting to discover the Japanese's love for salt.
Inaniwa Udon (Noodle of Kaiseki Set C), S$55++,
Air-flown from Japan, Tetsu's
Udon
stood out from the usual ones by being thinner and flatter in diameter. The noodles were silky and bouncy, fitting perfectly well in the cold state - seemingly refreshing as the strands slipped down your throat.
Hire Katsu Set, S$26.50++,
Hire Katsu
(pork fillet) offers a leaner cut compared to
Rosu Katsu
(pork loin) which offers a juicier (and fatter) cut.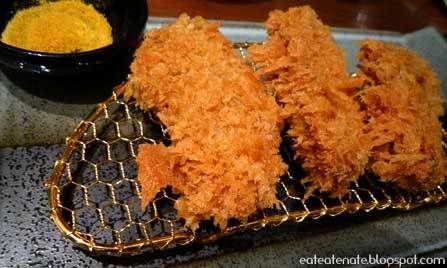 You could tell that the
Katsu
is different from the rest just by looking at the texture. The pork is marinated over three days for taste and succulence, then coated with specially imported breadcrumbs from Japan, and lightly fried to produce a light crust that is double the thickness of the usual
Katsu
. Expect rich juices to teasingly slip out of the crispy crust exposing its marbelized meat with every bite.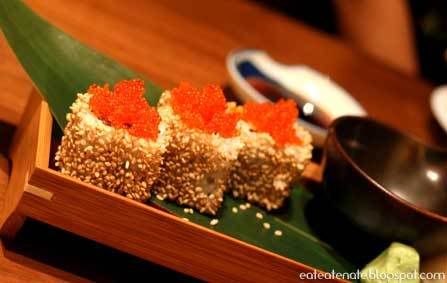 Roll Sushi (6 Pieces), S$18.00++,
This
sushi
seriously has to kick. Each bite-sized individual was meticulously prepared - the outer most layer covered with crunchy sesame seeds topped with a dollop of cod roe, followed by soft
sushi
rice, a seaweed layer, then finally the crux of the
sushi
, which was made up of scallop and tuna. We've never tried anything like this before, and before we knew it, both of us were already fighting over the last piece.
Matcha Ice and Kuzukiri, S$6.80++,
Milky green tea ice cream, served with a bowl of red beans among strands of chewy jelly. Not bad, but a little expensive though.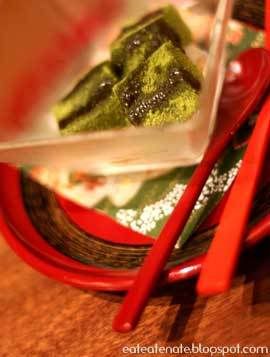 Matcha Mochi,
These three cubes of
Matcha Mochi
s were a kind gesture from chef Kent after he learnt that both of us are green tea fanatics. Dusted in thick green tea powder, these
Mochi
s would fare better if they were a slightly softer.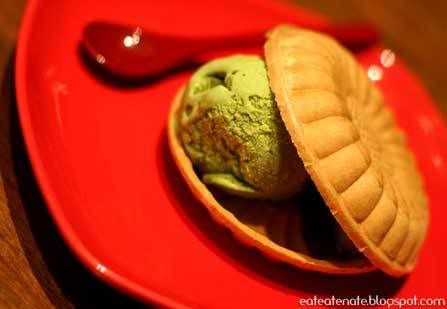 Kietsu No Ice and Warabimochi Monaka, S$7.80++,
With the first glance, you must be thinking that it's merely a cone shell with a scoop of green tea ice cream, but in fact, there's more than meets the eye.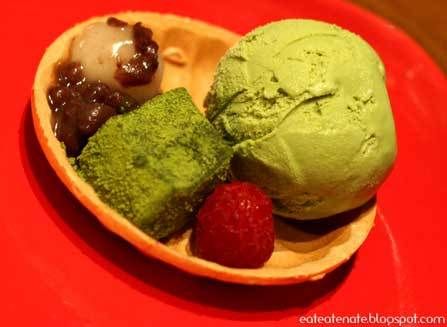 Tadah! When we opened it up, there were also
Japanese Mochi
and red bean,
Matcha Mochi
, and raspberry, which complemented one another pretty well.
Kokonatsu Milk Purin, S$5.80++,
A more uncommonly seen dessert - Japanese local favourite coconut milk pudding laced with fresh fruits. The coconut taste was actually quite mild, but it was fair enough.
VERDICT
If you are a fan of
Tempura
and
Tonkatsu
and are willing to pay a bit more, hesitate no further and head down to Tetsu and give yourself a unique multi-sensory treat. Also, be surprised by how some dishes were twisted through plays of creativity, yet sticking closely to the authenticity of Japanese cuisine.
Lastly, we would like to thank Racheal and chef Kent for the warm hospitality and great opportunity.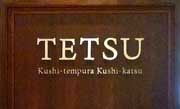 Tetsu
#03-18, Tanglin Mall
163 Tanglin Road, S(247933)
(+65) 6836 3112
Mon - Sun: 11.30 a.m. - 10 p.m.
http://www.tetsu.com.sg
| | |
| --- | --- |
| Food: | |
| Ambience: | |
| Value: | |
| Service: | |