When we first tried out this restaurant in 2006 (yah, very long ago), they branded themselves as a Western and Japanese fusion, and we kinda liked it back then. But it seemed that since early 2007, the restaurant had revamped its tag line to "The All American and Dessert Cafe", which is not also exactly precise due to the infusion of Mexican influenced items.
Funky decor with bright colours and big vibrant wall murals were that something which stood out from the rest of other generic food joints like Carl's Junior, The Cafe' Cartel, and Swensen's along the same stretch at Marina Square.
Bonless Shanghai Chicken, S$8.90++,
As common as this dish may sound, it was too quick to prove me wrong. Deep fried crispy chicken tossed with sweet and spicy pineapple-citrus sauce and topped with sesame seeds, it was a delightful tangy twist when eaten together with the
wasabi
mayo dip.
Bacon Chicken Fajita in BBQ-style, S$17.90++,
Disappointment fell the moment this was served to our table - so much less enticing than what described and pictured in the menu.
Basically, it came in a hot plate filled with bacon basted in BBQ sauce and smothered with mixed grated cheese, laid in a bed of lettuce and topped with
pico de gallo
(a fresh condiment made from chopped tomatoes, onions, and chiles - typically jalapeños or capsicums).
And this is what you do with your hot plate ingredients. Wrap them up into the flour tortillas served alongside, add some sour cream, and munch it up! However, the result was extremely dry and the bacon was too rigid. We got sick after a while and we left it unfinished.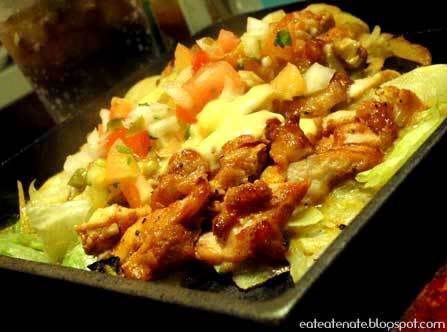 Classic Cajun-style Fajita (Chicken), S$15.90++,
Not much difference from the previous
Bacon Chicken Fajita
, just a little more moisture from the cajun marinated chicken and added cheese sauce. Still, not a recommended dish.
Cheese the Chicken, S$14.90++,
An all-time favourite in this restaurant. Just look at the layers of delicious nachos, tender grilled chicken, mango slices, and drizzled with cheese and CA's special mango sauce. Not a neat presentation, but it's this same mess that blow you off. The only complaint was that the cheese sauce seemed a little too cold and solidified when served.
CA Honey BBQ Steak, S$18.90++,
BIG was our immediate reactions when we saw the 200g stirlon steak, but too large a size became a bad thing when the steak turned out unpleasant. The meat was a piece of boring rubber, and really tough to chew on. Thankfully there were other sides like the cheese nachos and baked potatoes to balance it off, and a slice of grilled pineapple to punch in some scanty juices.
VERDICT
Fusion restaurants always whip up some unique / weird combinations (whichever you call it), and it's either a bingo or a miss. For those who don't mind risking your taste buds, you could try your luck at Changing Appetites. Food is not entirely bad, but they all have one thing in common - the significant lack of moisture.
Changing Appetites
#01-204, Marina Square
6 Raffles Boulevard, S(039594)
(+65) 6339 7670
Mon - Fri: 11.30 a.m. - 9.30 p.m.
Sat - Sun: 11.30 a.m. - 11.30 p.m.
| | |
| --- | --- |
| Food: | |
| Ambience: | |
| Value: | |
| Service: | |