Thinking back, Jack's Place was one of the pioneer batch to bring in affordable western food into Singapore, and it was so 'hip' back then. But with so many more competitors and better choices available now, it had long lost its popularity.
We decided to revisit Jack's Place after so many years (out of limited choices), because it was the one of the few restaurants in Century Square which required no queuing on a weekend dinner.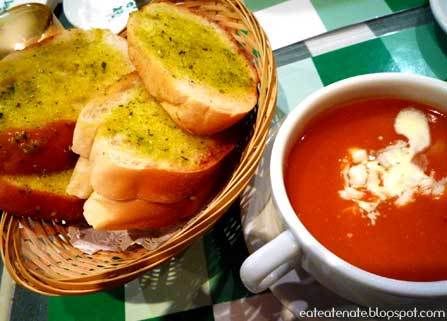 Fresh Lobster Bisque, S$4.50++,
What warmed us up and got us started was this rich bowl of
Fresh Lobster Bisque
. Use it for dipping with the complimentary garlic bread for a twist of sweet crunch. Don't hunt for '
lobster
' meat in the S$4.50 soup though. If you happen to get more, it'll come in as a surprise then!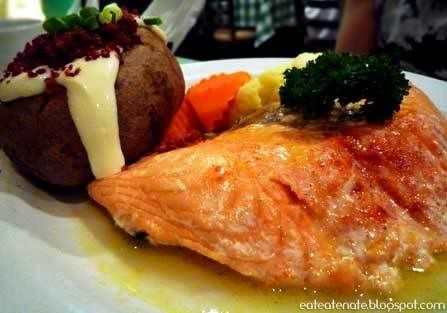 Grilled Salmon Steak, S$17.80++,
The
Salmon Steak
wasn't fresh, and it felt rather dry and pappy. I guess the flow of fishes is bad here, because this is just not the right place for sea creatures.
N.Z. T-Bone Steak, S$19++,
If you like your steaks to smell and taste very beefy, this is the right dish for you. Sizzling hot in a plate, rest assure to get your fill with such a thick hearty cut of 350g
T-Bone Steak
together with one whole baked potato, crowned with lots of mayonnaise and crunchy bacon bits. Delicious!
Jack's Special Steak, S$23++,
It was unexpected that this
Jack's Special Steak
actually tasted so good! The steak was tender and succulent, topped with asparagus and homemade black mushroom sauce which blended in perfectly. Juicy flavours leaked out with each sensational bite, you just can't wait to gobble everything up.
Mixed Grill, S$18.50++,
This is a mixed combination of chicken, beef steak, lamb chop, sausage, and bacon, topped with a sunny side up. Ideal for people who wants to try a bit of every different kind of meats, and S$18.50 for a dish like that, it was really a steal!
VERDICT
Revive your childhood memories by paying Jack's Place a visit if you've not done so in years. Frankly speaking, we think that their food and variety had made quite a huge improvement.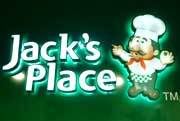 Jack's Place Steak House & Restaurant - Century Square
#B1-25, Century Square
2 Tampines Central 5, S(529509)
(+65) 6788 5508
Mon - Sun: 11 a.m. - 10.30 p.m.
http://www.jacksplace.com.sg
| | |
| --- | --- |
| Food: | |
| Ambience: | |
| Value: | |
| Service: | |