A
Singapore Flyer ticket
costs S$29.50, but with the 'Flight and Dine' package offered at Jalapeno's Pepper, you could actually top up approximately S$12 more (S$35.90++ in total) for a complete meal AND a Singpore flyer ticket.
Lively bright colours that caught our eyes upon entering.
Iced Lemon Tea and Cream of Pumpkin (Beverage and Soup
of Flight and Dine Package A), S$35.90++,
Normal glass of fountain drink, and a bowl of homemade
Pumpkin Soup
to start with, creamily smooth.
Fish and Chips (Main Course of Flight and Dine Package A),
S$35.90++,
We hate
Fish and Chips
, but we don't dislike the one served by this restaurant. The deep fried batter was thick, clinging tightly on to the white fluffy meat underneath. The battered fillet didn't felt too fattish despite its doughiness, and there's a sweet taste to it. It came together with potato wedges, mixed salad and tartar sauce.
Grilled Chicken Primavera (Main Course of Flight and Dine Package A),
S$35.90++,
The colours and flavours were incorporated very well into this bed of pasta. We like a dash of everything - sliced grilled chicken, broccoli, cherry tomatoes, mushrooms, carrots, zucchini, chilli flakes, and olive oil, tossed together with spaghetti in
Aglio Olio
style. A waft of the aroma will set your mouth watering.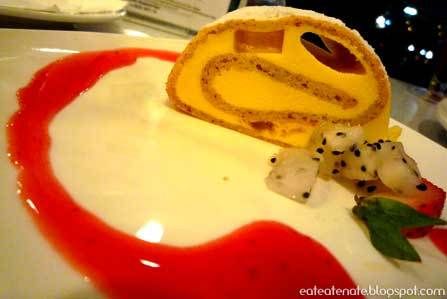 Hazelnut Mango Roulade (Dessert of Flight and Dine Package A),
S$35.90++,
The dessert was something like a swiss roll that was baked with real mango, soft and spongy, served with fresh fruits and a stream of strawberry sauce.
VERDICT
The sole reason we chose dining at Jalapeno's Pepper is because of the Singapore Flyer ticket tied into the meal package. To us, the meal was just a bonus so it didn't really matter. But in general, the food was reasonably decent.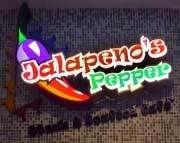 Jalapeno's Pepper Steak & Seafood Café
#02-01, Singapore Flyer
30 Raffles Avenue, S(039803)
(+65) 6333 1017/8
Mon - Thur: 11 a.m. - 10 p.m.
Fri: 11 a.m. - 11 p.m.
Sat: 8.30 a.m. - 11 p.m.
Sun: 8.30 a.m. - 10 p.m.
http://www.jalapenospepper.com.sg
| | |
| --- | --- |
| Food: | |
| Ambience: | |
| Value: | |
| Service: | |