I'm sure many of you have seen plentiful Azabu Sabo Hokkaido Ice Cream kiosks located in town shopping areas, and most of those who have tried usually go for their signature
Green Tea
flavour. However, the strong taste of
Green Tea
could be very subjective. You either love it or hate it. Thus another flavour which we find is the best among competitors so far is the
Rum and Raisin
one. This is a strong recommendation (and not an advertisement!) from us - just get a scoop to convince yourself.
Anyway, so much so for their ice cream. Azabu Sabo also serve Japanese cuisine at several restaurant branches, and we decided to give it a go.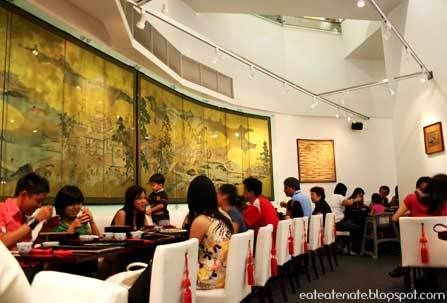 The restaurant offers two dining sections, one inside the shop itself, and the other outside at the 'open area'. We were given the latter and it was pretty okay if you don't mind occasional stares from people at the higher stories or escalators.
Green Tea Milk Shake, S$7.80++,
A wonderful thick milky shake with a scoop of vanilla ice cream on top. This should suit the general liking because the green tea flavour was strong enough to taste, yet at the same time, subtle enough to not overpower.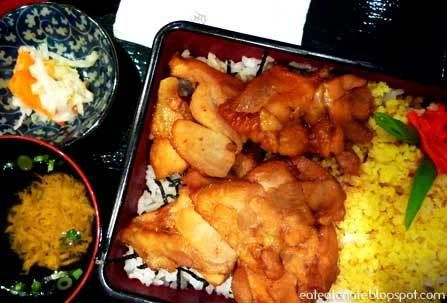 Sabo Style Teriyaki Chicken Bento, S$11.80++,
The portion was seemingly decent than what we would expect from a S$11.80 bento. There were generous slabs of
Teriyaki Chicken
, a mass of sweet minced (?) egg, shreds of seaweed covering the rice, some pickles and salad as sides, plus a bowl of clear miso soup.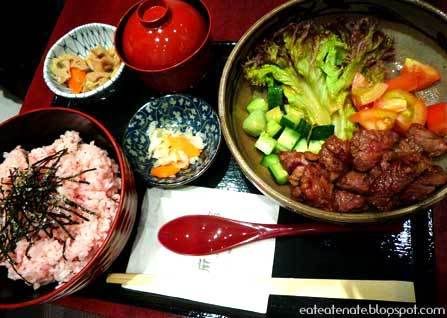 Grilled Premium Rib-Eye Beef Steak with
Wasabi Butter Sauce, S$19.80++,
This, although one of the slightly higher priced menu item, with lots of (cheap) pickles and vegetables to 'fill in the space', the rib-eye steak was worth it all. Bite-sized premium beef cubes tenderly grilled to relish tasty juices inside your mouth. And for something different, it was served with plum rice and matching
Wasabi Butter Sauce
.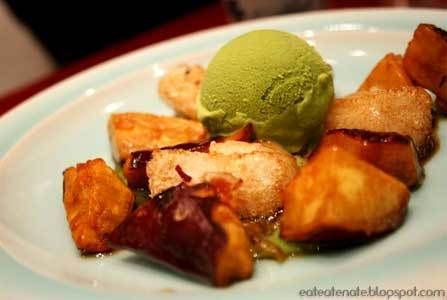 Caramelized Sweet Potato and Japananese Rice Cake
with Matcha Ice Cream, S$8.80++,
We wanted an atypical dessert rather than those bowls of soft serve sundaes with sauces and lots of toppings which people usually order. Wrong choice, because the
Caramelized Sweet Potato and Japananese Rice Cake
turned out very disappointing. They were hard and tough to chew on, and we struggled our way through to finish it. Lesson learnt - just stick to the popular choices.
VERDICT
For a brand which specializes mainly in desserts, the food fared reasonably well enough. We might be dropping by again for some after-meal-desserts, and when that time comes, we'll be be choosing the
popular ones
.
Azabu Sabo - The Central
#01-68/69, The Central ©
6 Eu Tong En Street, S(059817)
(+65) 6410 9578
Sun - Thur: 11.30 a.m. - 9.30 p.m.
Fri - Sat: 11.30 a.m. - 10.30 p.m.
http://www.azabusabo.com.sg
| | |
| --- | --- |
| Food: | |
| Ambience: | |
| Value: | |
| Service: | |