In Sakae Teppanyaki, an orchestra of "clanks" could be heard from all that skillful frying, flipping, scraping as the chefs present the food neatly to your face.
Seated in a side-by-side fashion within a semi-circle table of ten, it was very easy for the chef to become the centre of attraction. Thus, he puts on his best performance even when cooking - stunts like somersaulting the bottles of sauces and drizzling them in a fancy way.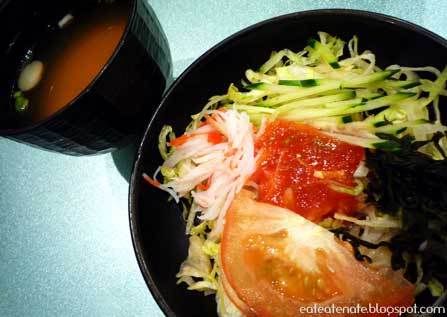 Appetiser and Miso Soup (Part of Chicken Set), S$17.99++,
To start the ball rolling, we were served a bowl of hot soup and a bowl of cold cucumber lettuce salad with Japanese dressing. Very ordinary - just something for us to slurp and munch on as we watched our meal being prepared dish by dish.
Garlic Brown Rice (Upgraded from Chicken Set), S$2.50++,
We did a top of S$2.50 to change the plain white rice to this! It was indeed as promising as it looked, fried with egg, butter and a couple of sauces, giving off a redolent of garlic. And the best part was it was neither too greasy or dry.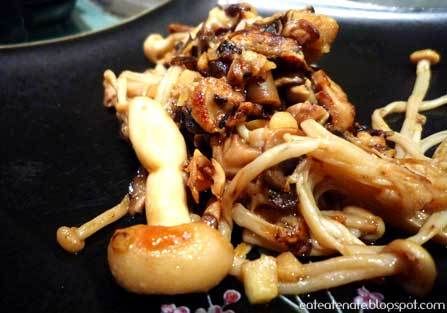 Assorted Mushroom (Part of Chicken Set), S$17.99++,
What can we say when it comes to mushrooms, and what's more when they're in
Teppanyaki
style? We simply love them to bits!
Salmon (Part of Chicken Set), S$17.99++,
Quite a stingy thin slice of
Salmon
of passable quality. It does not belong to those super fresh kind but at least it wasn't dry and mashy.
Oyster (Part of Chicken Set), S$17.99++,
Oysters in
Teppanyaki
style was a complete turn-off. I threw this away after the first bite. Yuck!
Tofu Steak (Part of Chicken Set), S$17.99++,
Thankfully egg tofu was used for this because we have a personal distaste against plain tofu. A simple but likeable dish but we still got quite tired of it after a while.
Chicken (Part of Chicken Set), S$17.99++,
Yes, we ordered the
Chicken Set
, so the
Chicken
must have been the star. These juicy cubes were tastily seasoned and cooked till slightly charred around the edges, but yet not overburnt - just the way we like it!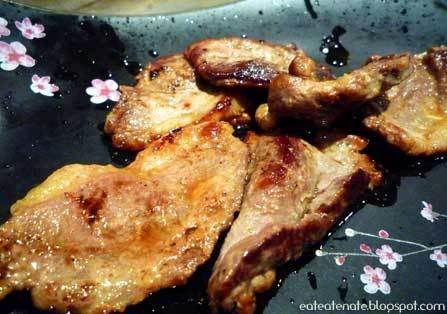 Duck Meat, S$9.99++,
The
Duck Meat
was an a la carte add on, and we thought that it was a bit pricey to pay for little tough meat like that.
VERDICT
If you like the sight of sizzling and frying done before you, then you would enjoy it here! Sakae Teppanyaki however does not entertain 'girls' who complain that their hair reek of the strong smell of food afterwards, because all that smoke is inevitable! It's up to you whether to call it stench or aroma.
Sakae Teppanyaki - Bugis Junction
#B1-05, Bugis Junction
200 Victoria Street, S(188021)
(+65) 6884 4624
Mon - Sun: 11 a.m. - 10 p.m.
http://www.sakaeteppanyaki.com
| | |
| --- | --- |
| Food: | |
| Ambience: | |
| Value: | |
| Service: | |