It's a friday night and you are out with your friends downtown. You want a place where you can have a nice dinner, do some catching up, and stay on long without getting the 'when-are-you-leaving-stares' from the servers. Then, you shouldn't give TCC a miss!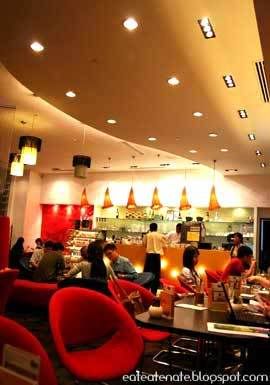 The relaxed ambience and comfy chairs already await you to snug onto them.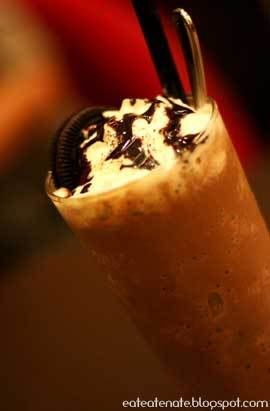 Oreo Mocha Frappé, S$7.90++,
We don't usually choose this, but doesn't mean that it isn't good! We just happened to have cravings for chocolatey drinks that particular day, and our personal favourites are
Peach Me Up
and
Matcha Mambo
.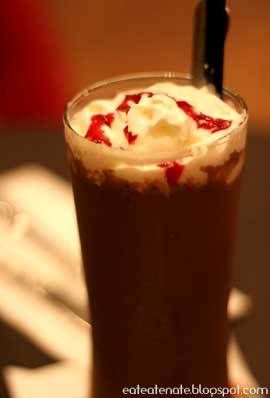 Chocolate Raspberry Frappé, S$7.90++,
It's really a wonder how TCC did their drinks, because none of them ever seem to disappoint us.
Chocolate Raspberry Frappé
was a new menu item, and as usual, it got us squealing in delight with a sour fruity twist to its rich chocolate.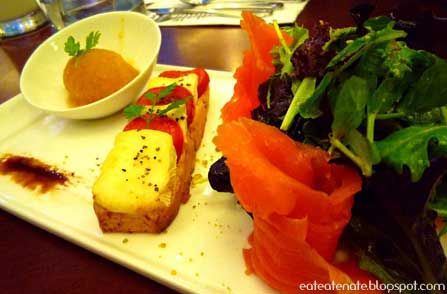 Smoked Salmon and Camembert Toast Salad
with Apricot Sorbet, S$13.80++,
A salad of smoked salmon and camembert cheese toast snaps in as a zesty start! Spread in blobs of homemade apricot thyme sorbet to give an uplifting sensation.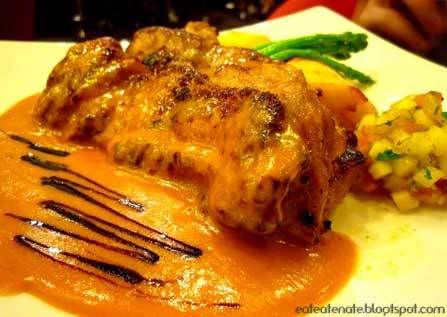 Tropical Tamarind Chicken, S$17.50++,
A tender piece of marinated chicken thigh soaked in warm tamarind cream sauce, which goes perfectly well with the tropical fruit salsa, asparagus, and the tastiest dauphinoise potatoes. What else could be better?
Banana Salmon Exotica, S$20++,
How does banana curry sauce with salmon and mashed potatoes sound? Weird, and perhaps too exotic for the general. Surprisingly, it turned out to be a taste so unique yet appealing in the piquant blend of everything.
Chicken and Turkey Bacon Lasagne, S$16++,
Fork your way through a blanket of golden brown mozzarella cheese, with underlying layers of pasta sheets and generous servings of diced chicken and smoked turkey chicken trapped between - meltingly baked goodness.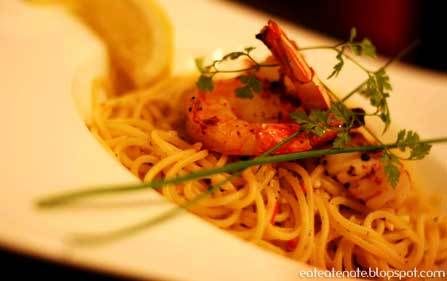 Seafood Aglio Olio, S$18.80++,
Spaghetti
Aglio Olio
subtly flavoured with chilli and garlic accompanied with succulent pan seared scallops and fresh prawns.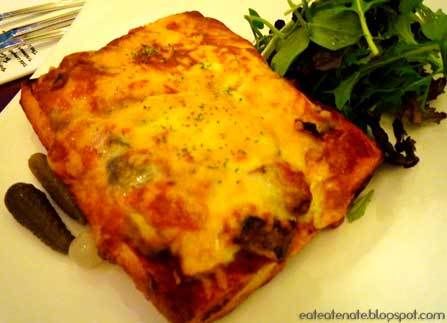 Chic-Mex Pizza, S$12++,
This was more like a pizza toast - crispy bread crust topped with chicken chunks and turkey bacon, spiced up with capsicums and jalapeños peppers. The cheese however seemed to be a tad dry.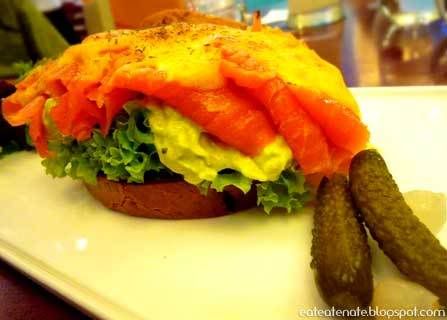 Smoked Salmon Avo-bayon, S$14.50++,
Citrusy smoked salmon draped with luscious avocado mash and drizzled with a thin layer of sabayon sauce, served between delicious baked walnut rye bread. It's gonna be a big pulpy mess!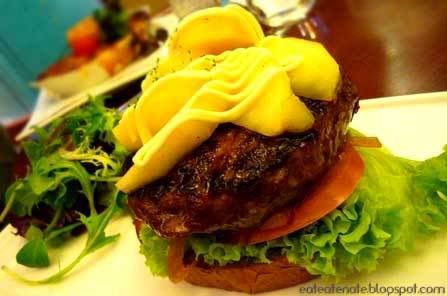 Beef D'luxe, S$14.50++,
You'll be amazed by how thick and juicy the homemade beef patty was. Grilled to tender excellence, the patty was well accompanied with nectarous braised apples, tomato slices, lettuce, and again, the delicious walnut rye bread.
Shrooms 'N' Cheese Sandwich, S$13++,
The best sandwich we've tried by far. Meaty portobello, button and oyster mushrooms with velvety layers of melted cheese - this dish is sure to win the hearts of mushroom and cheese lovers.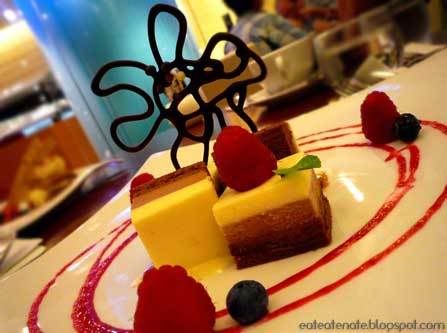 Cocoa Mosaic, S$10++,
An art piece so pretty that you wouldn't know where to start. Swirls of raspberry sauce and berries encompassing cubes of white, milk, and dark chocolate mousse melt subtly in your mouth. Sweet.
Devil-misu, S$11++,
It was quite sad to find out that the
Ti-rum-isu
in the old menu had been replaced by this. Along with the price hike, the
Devil-misu
was seemingly an upgraded version made from TCC's finest espresso and mascarpone cheese with a demonic kick of rum, served with berries and brandied cherries.
VERDICT
Nothing in TCC was labelled "yucky". Well, at least of all that we'd tried. We are loving everything here from the food, to drinks, desserts, and presentation. TCC had already earned itself a perennial favourite for hanging out and chilling among us and our friends.
TCC - The Atrium @ Orchard
#01-17, Atrium @ Orchard
60 Orchard Road, S(238891)
(+65) 6884 9223
Sun - Thur: 11 a.m. - 11 p.m.
Fri - Sat: 11 a.m. - 1.30 a.m.
http://www.thecoffeeconnoisseur.com
| | |
| --- | --- |
| Food: | |
| Ambience: | |
| Value: | |
| Service: | |