Start your day right with a bowl hot steaming
Bah Kut Teh
from the famous Ng Ah Sio stall. As early as 6 a.m. in the morning, you'd be surprised to see crowds bustling at this eatery.
Situated at Rangoon Road (near CTE), it wasn't exactly the most accessible spot unless you have your own private transportation. Of course you could always walk from Farrer Park MRT or take a bus in (if you know the way), but most of the customers here were often families and regulars from the older generation (we're an exception).
Service here was speedy and efficient. The moment you got your butts seated, Ng Ah Sio's staff would come over to you with a PDA in their hands, ready to take your order anytime. And within a few minutes, your order (once entered into their system) would be sent straight to your table hot from the kitchen. Thereafter, the bill would also come along, printed nicely and inserted into a black bill holder, those typical ones you would encounter in a restaurant.
Pork Ribs Soup, S$5.50+ (+ S$2 You Tiao, +S$2 Tea),
Bah Kut
(pork ribs) were so tender - one bite and everything slipped off from the bone. The soup was a huge pepperish sensation, which would send spicy tingles to your taste buds. And as you drain the soup to the last bit, you could actually find garlic and crushed peppercorns residue at the bottom. One bowl surely wouldn't be enough, and the good news is, the soup was free flow.
Best companions to along with the
Pork Ribs Soup
were none other than traditional
Teh
(tea) and
You Tiao
(deep fried dough sticks). There are six different types of Chinese tea for you to choose from, and we ordered the
Xiao Yue Gan
- soothing to the after effects of the pepperish soup.
VERDICT
It was the "Lao Zi Hao" (old brand name) that Ng Ah Sio carried, which kept them maintaining their food quality and thriving business. We recalled when we were kids, our parents used to bring us here, and we would always stick out our tongues and fan them wearing a frown on our faces, because we couldn't take the spciyness. Now, this Ng Ah Sio had becomed one of our personal favourite
Bah Kut Teh
stalls.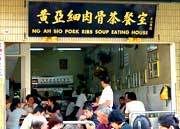 Ng Ah Sio Pork Ribs Soup Eating House
208 Rangoon Road, S(218453)
(+65) 6294 7545
Tue - Sun: 6 a.m. - 2 p.m.
Mon: Closed