The popular Marché concept, had been brought into the market by Thai Express Concepts (also the company which brought in Thai Express, Xin Wang Hong Kong Cafés and New York New York), but in Japanese style instead.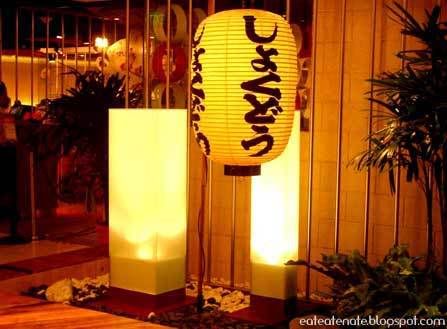 We went early on a weekday, and fortunately, we got into the restaurant without any waiting. Because most of the times, it's jammed up with the long queues, and you can't make any reservations beforehand.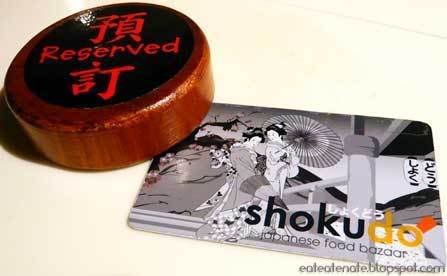 Once you step in, you would be issued a Shokudo card and a wooden token. Like Marché, it was free seating for everyone, so the wooden token (instead of tissue packs) could be used to 'reserve' your table.
Afterwhich, you could then start making your rounds around the restaurant, browsing what the various food stations have to offer.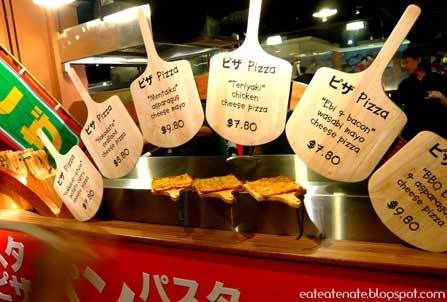 Japanese thin-crust pizzas.
Besides traditional Japanese cuisine, Shokudo also offers Japanese-infused Western food like these Japanses burgers.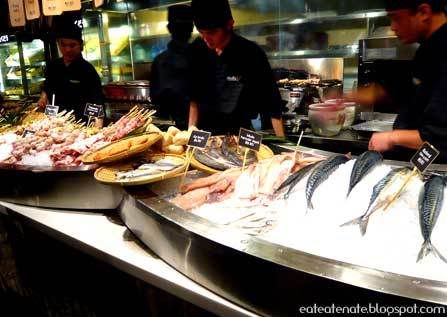 Assorted meats and seafood, fresh and raw.
Food and pricing were displayed altogether, in a very clear-cut manner. After you've decided on what you want, you'll hand over your Shokudo card to the chefs and order straight from them. Your food then gets cooked on the spot, and you can collect it the moment it's done, piping hot.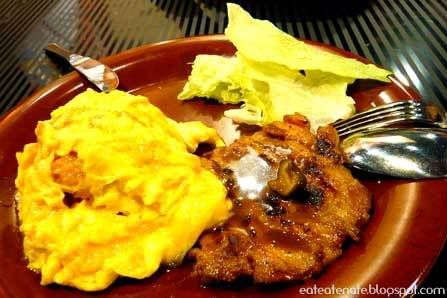 Grilled Chicken Omu Rice, S$6.80++,
Fried rice, topped with streams of tomato ketchup, wrapped together in an egg omelette - made up this sweet and sticky combination known as the
Omu Rice
. Going alongside, was a reasonable share of tenderly grilled chicken steak.
Pork Katsu Curry Rice, S$7.80++,
We seldom eat Japanese curry, so we don't really know how to judge what's good and what's bad. For us, we kinda like this version, thicker and tastier than the usual, with lots of potatoes and carrots in it. The
Pork Katsu
was mildly fried, not too oily nor too much flour. Ultimately, what we like best about this dish was the generous portion.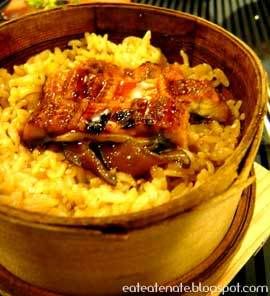 Bamboo Barbequed Eel Rice, S$3.80++,
For those who wants a less filling main course (so that they could still try a variety of other sides), this
Bamboo Bbq Eel Rice
is just the right thing for you. And we both thought that S$3.80 for such a tasty portion of
Unagi
(eel) was quite a steal.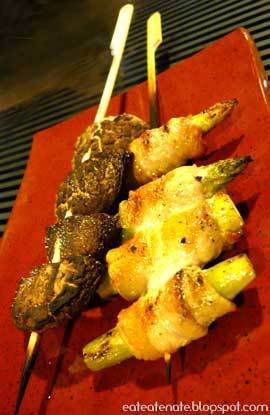 Shitake Mushrooms Skewer, S$2.00++,
Pork Asparagus Skewer, S$2.50++,
Skewers were pretty much of the average, but a tad to the dry side. They would be better off if accompanied by some sauce.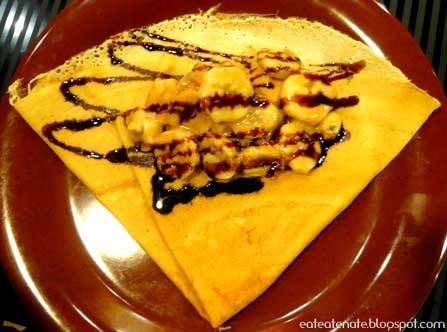 Banana and Chocolate Crepe, S$4.80++,
Freshly made hot crepe topped with one the nicest combinations around - bananas and chocolate. Yum.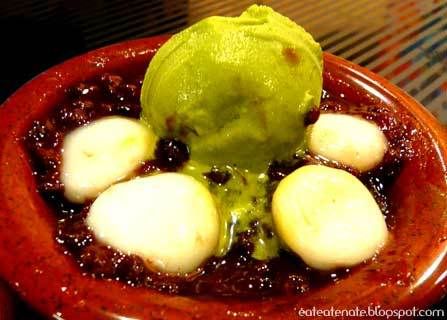 Red Bean and Mochi with Ice Cream, S$5.80++,
The Japanese
Red Bean
was gooey;
Mochi
s were soft and chewy;
Matcha
gelato ice cream from Haato was full of flavour. Opt for this bowl of guilt-free dessert, if weight / health is an issue you're concerned about.
VERDICT
You see what you get - The brilliant part about this whole concept is that you could take as much time as you like to place an order; and you could have your dessert before your main course without getting weird stares from servers or customers from the next table. Then again, due to a clashing amount of both positive and negative feedbacks, the quality of the food becomes a question. In our opinion, it wasn't as bad as "don't even bother trying" (cause it depends on what you order, and there are too many to choose from); neither was it the super uber delicious kind. Nonethless, what will keep us returning to Shokudo is the varied diversity and affordable pricing.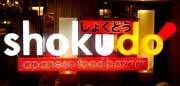 Shokudo Japanese Food Bazaar
#B1-44E, Raffles City Shopping Centre
252 North Bridge Road, S(179103)
(+65) 6937 3793
Mon - Sun: 11.30 a.m. - 10 p.m.
| | |
| --- | --- |
| Food: | |
| Ambience: | |
| Value: | |
| Service: | |