We chose the branch at The Central © over the one at Cuppage in hope to catch a glimpse of Singapore River through the window seats, but our hopes were dashed due to the overwhelming crowd during dinner time.
Oh well, the interior (without the window seats) wasn't too bad - warm and friendly. Moreover, the food and company made this dining experience an enjoyable one.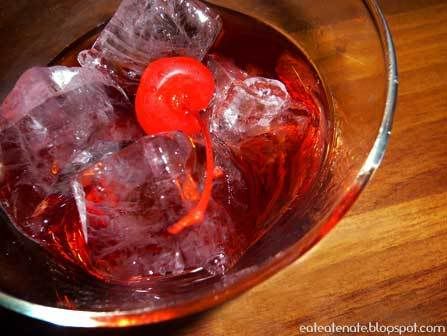 Beautiful Lady, S$6.80++,
We've never dared to try
Sake
, 'cos we've heard how unbearable it could actually taste for some. However, we fell in love instantly upon the first sip of this strawberry flavoured
Sake
. Sweet and subtle, the alcoholic taste wasn't too hard on us.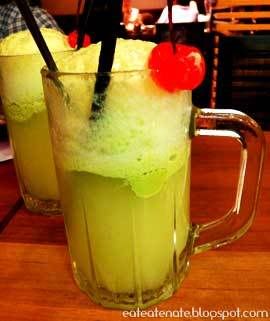 Matcha Float, S$3.80++,
We were expecting thick milky
Matcha
kind of drink, but this was the fizzy soda kind, with a scoop of
Matcha
ice cream on top. It's subjective, but we didn't like it.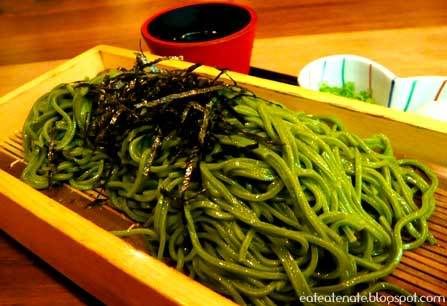 Cha Soba, S$9.80++,
The memory of Waraku's
Cha Soba
has always been very vivid from
the day we first tried it
. Still as impressive as before, this simple plain dish never fails to leave us in great satisfaction.
Yakitori Don (Regular), S$9.00++,
Yakitori
(grilled bird) is a Japanese type of skewered chicken, and I usually enjoy
Yakitori
by biting the meat off those wooden sticks. But here, the bite-sized chicken pieces were presented in a gob together with Japanese rice, stir-fried onions, cabbages, and seaweed. Something we felt lacking was some sauce, to make the dish less dry and more appetising.
Sakura, S$18.80++,
The
Sakura
set comprises of a massive bowl of creamy soup
Udon
and
Hotate
(scallops), plus a hefty bowl of Japanese rice topped with shredded egg and salmon roe.
We sure ate to our fill as we savoured every thick chewy strand of
Udon
with the concentrated cream sauce, whiffing the strong aroma of the cheese.
Hotate
were sweet tasting, but the freshness was quite unknown due to the heavy masking by the sauce. On the other side, rice bowl bacame boring once the juicy fish roe ran out.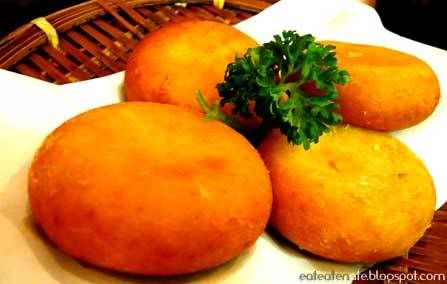 Potato Mochi Cheese, S$8.80++,
Even the name itself sounded tempting enough. Hot cheese oozing out with every bite of the deep fried
Potato Mochi
. Simply celestial!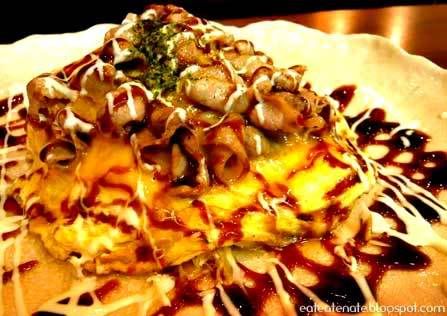 Tonpei Yaki, S$6.80++,
Sliced pork meat with Japanese white cabbage, covered in soft golden omelette, dressed in
Okonomiyaki
sauce and mayonnaise. The
Tonpei Yaki
turned out to be a mix of appropriate sweetness and saltiness, and it served as a modest side for sharing.
VERDICT
Just by judging from the crowd inside and queues outside, Waraku is no doubt one of the popular Japanese restaurants in Singapore. Delicious authentic Japanese cuisine, sizable portions, that comes with affordable prices too.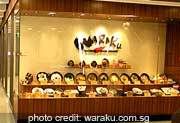 Waraku - The Central
#03-89/97/98, The Central ©
6 Eu Tong Sen Street, S(059817)
(+65) 6327 8860
Mon - Fri: 11.30 a.m. - 11 p.m.
http://www.waraku.com.sg
| | |
| --- | --- |
| Food: | |
| Ambience: | |
| Value: | |
| Service: | |