Having tried the 6-course set lunch at
Tao's
a year+ ago, we're now hopping over to its next-door neighbour, JuJu, for their 6-course hot pot lunch. Both restaurants are managed under the same company, and located at the same mall - PoMo Centre, formerly known as Paradiz Centre. The new name sounds kinda funny though.
1st Course: Starters
Semi-Boiled Golden Egg with House Starters,
The elongated plate came with some beef and shellfish which I can't really remember, but the main spotlight was the
Golden Egg
. Semi-boiled to 70% and when mixed with their own special sweet sauce, it was HEAVENLY I tell you! Never in my life I knew something so common (eggs) could taste so uncommon.
2nd Course: Side Dishes
Vermicelli,
The
Vermicelli
was the usual kind, and it was there just to fill you up. Other side dish choices include
White Rice
,
Rice Stick
, and
Soba
.
Soba,
Their
Soba
was a bit below standard - more on the hard side.
Looking at the menu now, the lunch set actually includes a Dumpling Platter but I realised I don't have any pictures. Either we forgot (to take photos), or the restaurant forgot (to serve), or the dumplings tasted so mediocre that we had forgotten (whether even we ate them in the first place).
Okay I just saw the dumplings hiding in the main platter itself, and they must have really tasted mediocre because I don't recall their existence at all!
3rd Course: Mains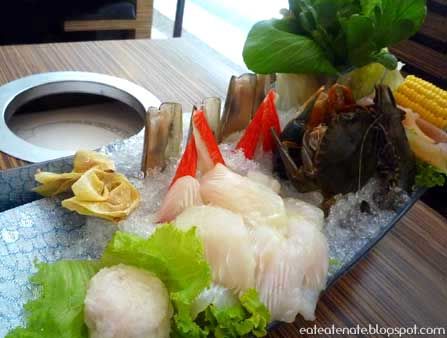 Fresh Pacific Ocean Platter,
The
Fresh Pacific Ocean Platter
seemed the most intriguing and worthy set, with different types of seafood sitting in a large wooden boat. The seafood are basically some prawns, mussels, fish slices, crab sticks, a whole crab etc; and the crux to great seafood lies in their freshness, and JuJu did it.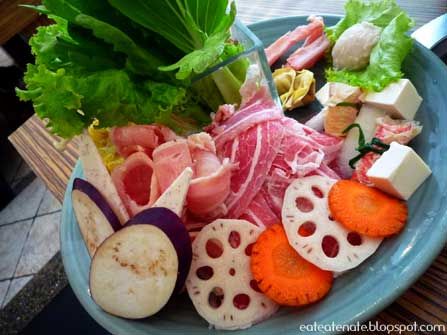 Chicken and Pork Combo,
Chicken and Pork Combo
was nothing unusual with brinjals, yam, lotus roots, carrots, plus other vegetables. Meat were also fresh and thinly sliced (perfect for steamboats), but personally, we prefer the pork to chicken.
4th Course: Soups
Hot and Spicy Soup,
The restaurant offers individual hot pots, and also individual soup bases -
JuJu's Hokkaido "Kun Bo" Clear Soup
,
Hot and Spicy Soup
, and
Creamy "Kun Bo" Soup
.
We chose the first two, and both of us find the
Hot and Spicy Soup
too overpowering that it masked out the natural taste of all the steamboat ingredients. The attentive waitress noticed the changes in our faces and offered to pour in some
"Kun Bo" Clear Soup
to neutralise the spicyness, and it did help a little.
5th Course: Beverages
Ice Plum Vinegar,
According to the waitress, these
Ice Plum Vinegar
were supposed to aid in digestion, and indeed, it felt really soothing after a heavy meal.
6th Course: Desserts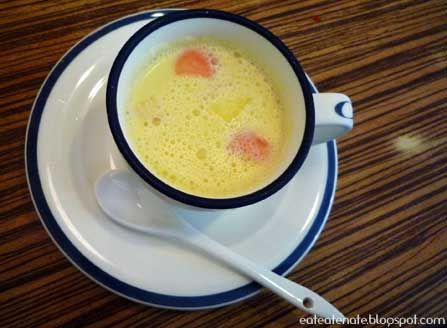 Pearl Harbor,
There wasn't much variety in the desserts, so we left our decisions to the friendly service crew.
Pearl Habor
was similar to what we know of, the
Honeydew Sago
. Not bad, pretty refreshing.
Glutinous Purple Rice Topped with Sweeten Yam,
This was similar to our usual
Hei Nuo Mi
(
Black Glutinous Rice Dessert
) but I don't like the
Glutinous Rice
desserts, so nope, this wasn't for me.
VERDICT
We were initially attracted to the idea of having individual hot pots, and little did we know, steamboats can be comfortable too. However, the price jump from lunch to dinner didn't seemed quite worthwhile because the difference only lies in the kinds of dumplings being served. And as expected, JuJu's service was a big plus!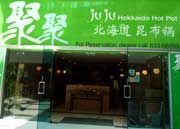 JuJu Hokkaido Hot Pot
#B1-18, PoMo Centre
1 Seleie Road, S(188306)
(+65) 6336 6689
Mon - Sun: 11.30 a.m. - 10 p.m.
http://www.juju-restaurant.com
| | |
| --- | --- |
| 6-Course Set Lunch: | S$19.80++ |
| 7-Course Set Dinner: | S$29.80++ |
| | |
| --- | --- |
| Food: | |
| Ambience: | |
| Value: | |
| Service: | |