We were given the opportunity to review Tetsu's new menu and it had been rewarding. The new menu consists of much more deliciously and meticulously prepared food which never fail to entice our taste buds.
Kawa Ebi Karaage, S$8++,
Fugu Mirin Boshi, S$10++,
The
Kawa Ebi Karaage
on the extreme left are deep fried river shrimps, and because they are so small, you can pop in several of them and feel the satisfying crunch between your teeth.
Next to the shrimps are strips of
Fugu Mirin Boshi
(dried puffer fish) - a rare delicacy which can be deadly if not prepared properly. Being our first time trying "poisonous" food, we had all sorts of questions running through our minds. I got surprised on my first bite when the puffer fish turned out to be sweet and chewy (but not puffy like what I imagined). Lionel commented that its texture slightly resembled our local favourite '
Bak Kwa
'.
Yaki Niku, S$18.50++,
This piece of prime beef tenderloin is in good hands! Hand-grilled to perfection, we fell in love with the soft tenderness and succulence of the meat instantly. Plus, something different about grilled tenderloin in Western cuisine and Japanese cuisine is the sauce, and this one here matched wholly.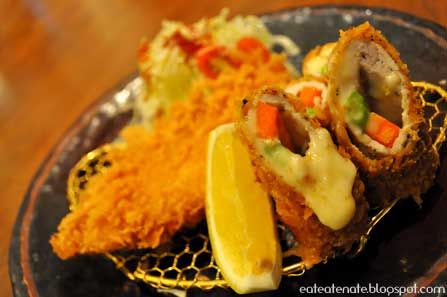 Fire Hire, S$14.50++,
Cheese Katsu Roll, S$16.50++,
A well-breaded fried fish (behind) is added to the
Kushi-Age
family, and with every bite you could feel the crisp of the skin, while the flavour, softness and moisture of the fish fillet retains.
Also in the
Kushi-Age
family, the
Katsu
had evolved into cheesy rolls (in front)! The peppery taste of the breaded pork makes it a good contrast against the sweetness of the carrots and asparagus, and the melted cheese just adds more kick although I would personally prefer even more cheese. Make sure you eat this dish fast before the cheese turns cold and hardens.
Unagi Sushi, S8++,
Take a break from all the strong flavours with these freshwater eel
sushi
s - light with a dash of natural sweetness.
Tai Kabutoni, S$28++,
An expensive air-flown premium red snapper head, undeniably fresh but I find the meat a little too tough and salty for my liking. Perhaps it was the method of cooking.
Katsu Curry Rice, S$16.50++,
Unlike other Japanese curries that are often powdery and too sweet, this smooth curry (a special recipe by Tetsu) is fragrant yet not overpowering, and it simply slides down your throat and warms you from within.
Oishii
!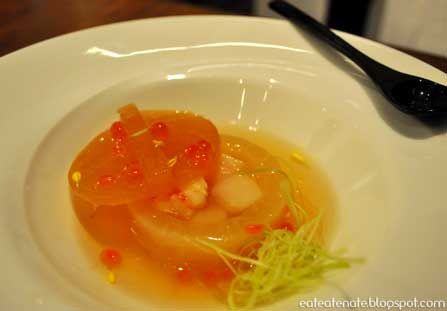 Surprise Dish from Chef,
We were in for a surprise personally prepared by Chef Kent, and it was AMAZINGLY AWESOME! Radish was painstakingly
hand crafted
into a shape of a
Ohitu
(some Japanese rice bucket which looks like
this
), and inside, it was filled with salmon roe and more radish, ALL exaggerating fresh and luscious. We've never had anything like that before! Greatest thanks to Chef Kent (but a pity the dish is not on sale).
Yuzu Ice Cream on Strawberry Sherbert, S$5.80++,
Yuzu
(pomelo), strawberry, lemon, tangerine, grapefruit and pine - a myriad of tastes packed into this unique Japanese ice cream.
VERDICT
Savouring the end products after months of hard work and intense preparation from the Tetsu's chefs brought back memories when we
first tried
Tetsu. There is an apparent improvement, and the new menu definitely brings about more variety and excitement to the customers.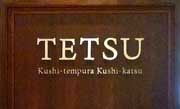 Tetsu
#03-18, Tanglin Mall
163 Tanglin Road, S(247933)
(+65) 6836 3112
Mon - Sun: 11.30 a.m. - 10 p.m.
http://www.tetsu.com.sg
| | |
| --- | --- |
| Food: | |
| Ambience: | |
| Value: | |
| Service: | |