I remember I used to be very excited going over to Kuishin-Bo for a buffet meal, but sadly, I no longer feel the same now. After a renovation in April 2007, standards dropped - both variety and quantity.
This afternoon, I went for Kuishin-Bo again, for the third time after its renovation. (I didn't take any pictures in the previous two rounds.)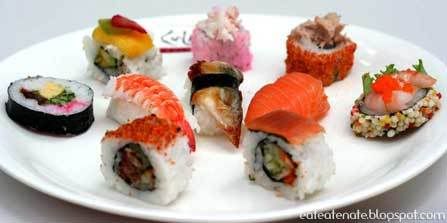 Sushis,
Colours and presentation were attractive. They made decent
sushi
s, except for the rice being too hard, and they didn't stick together very well. Anyway, just grab a bit of these to start off, and then move on. Don't stock up your buffet stomachs with carbos!
Sashimis,
We all love free flows of
Sashimi
s, because they are fine, fresh, and always aperitive. Japanese people believe that
Sashimi
s should be eaten first, before other strong flavours affect the palate.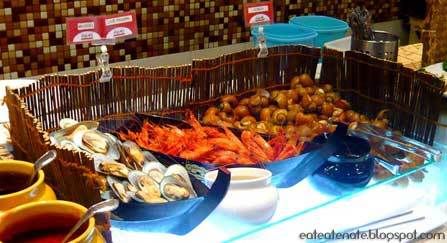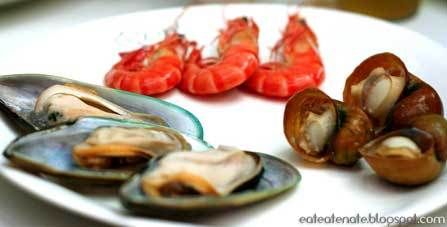 Seafood,
The seafood section was quite pathetic. Kuishin-Bo used to serve fresh oysters before the renovations, but now they'd replaced them with mussels instead. Prawns were pretty fresh, while the conches were just sick (at least to me and a few others). Yellow brainy juice (or whatever that is) oozed when I dugged out the conch flesh, and it was utterly appalling to my mouth - tasteless tough rubber.
I didn't take anything from the deep fried section because nothing tempted me there.
Teppanyaki,
Beef, chicken, dory and salmon - the four standard meats good enough to have in
Teppanyaki
s.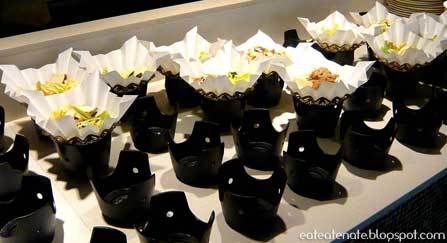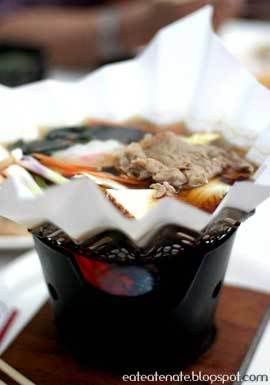 Beef Kaminabe,
The best dish of this restaurant I supposed was the
Kaminabe
(Japanese paper steamboat). Given the cold weather lately, it was much of a joy to slurp through a pot of boiling hot soup. Rich overflowing sapidity streaming into your throat, and down to warm your stomach. Terrific.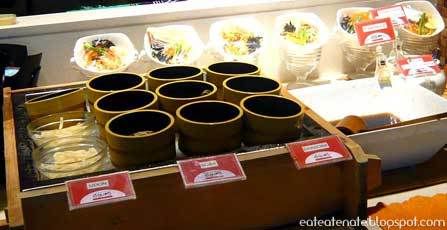 (From top left, and clockwise down:) Soba, Cha Soba, Udon,
The cold noodles were merely passable - they just made it through the mark; and
soba
sauces were towards the "too salty" side.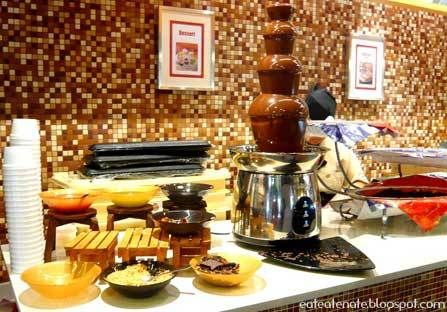 Expansive selections from the dessert sections.
Desserts,
Desserts came cute, tiny, and in delectable assortments. The chocolate fondue was irresistably fudgy (it goes best with the bananas); eclairs exploded inside mouths with icy cold ice cream; fruit tarts were good; mini donuts were covered with overly sugary coatings; and mini cakes were acceptable. Though the quality was fairly good, the best bet was that they were all bite-sized :) Sweet sweet treats.
VERDICT
The first time there is always a good experience, but subsequent visits would deem Kuishin-Bo as "not so nice" anymore. If you really want, add an approximate S$10 more and go for the dinner instead - you get free frow of expensive snow crabs, and special items like baked lobsters, candy floss and such. But still, the price could probably get me better buffets elsewhere.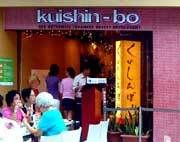 Kuishin-Bo, The Authentic Japanese Buffet Restaurant
#03-002, Suntec City Mall
3 Temasek Boulevard, S(038983)
(+65) 6238 7088
Mon - Sun: 11.30 a.m. - 10 p.m.
http://www.res.com.sg
| | |
| --- | --- |
| Buffet Lunch: | S$24.80++ (Weekdays) |
| | S$27.80++ (Weekends) |
| Buffet Dinner: | S$33.80++ (Mon - Thur) |
| | S$39.80++ (Fri - Sun) |
| | |
| --- | --- |
| Food: | |
| Ambience: | |
| Value: | |
| Service: | |