Who says nice food only comes from posh restaurants with rocket-high prices? This homely modest restaurant here shall prove you wrong.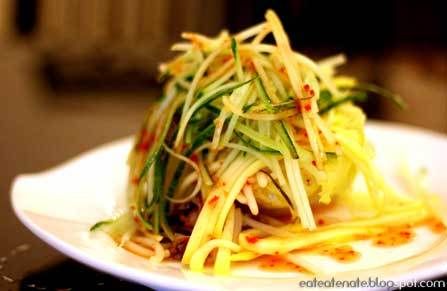 Roasted Duck and Mango, S$7.50 nett,
A taste bud kicking appetiser to start with. Slices of roasted duck tossed with mangoes, cucumbers and beansprouts - a fine balance of airness, crunch and sweetness. Chilies and plum dressing added the spicy and sour zest to it, which we believe many Singaporeans will fancy.
Tropical Hawaiian Pizza, S$9.50 nett,
This homemade
Hawaiian Pizza
was a wrong dish to choose. The thick pizza base was too doughy and dry; sliced chicken and ham were not even tender; tomato sauce was dry too; and the mozzarella cheese came in stingy amounts. The whole pizza just felt like a big chunk of stale bread, and the only relieves were the juicy canned pineapples.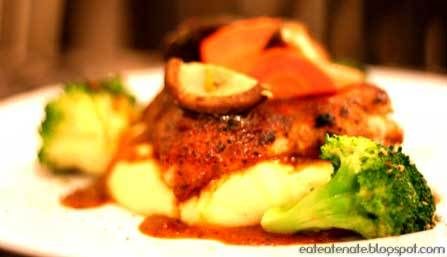 Barbequed Chicken, S$14.50 nett,
Now now, this one is good. Grilled chicken leg, accompanied with mashed potatoes, broccolis, carrots and mushrooms, glazed with a special BBQ sauce. Not tough, not fatty, just soft and tender succulence, for every bite of the chicken you make. Mashed potatoes were unbelievably heavenly - velvety, fluffy and pepperish. Splendid!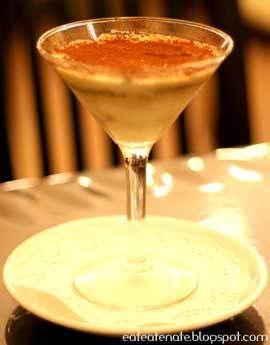 Tiramisu, S$6.50 nett,
When my spoon first sank in, I knew this wasn't going to disappoint us.
Kahlua
(coffee-flavored liqueur made in Mexico) rushes its way out and ends up in your mouths with lingering transcendence. And the fact that the
Tiramisu
was presented in a cup, each of this dessert is exquisitely and individually made.
The layers of strong
Kahlua
soaked
Savoiardi
(lady fingers cookie), topped with rich creamy mascarpone cheese, and then dusted with bitter sweet cocoa powder.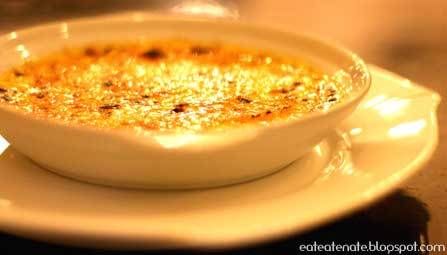 Crème Brûlèe, S$4.50 nett,
This is the dessert which kept us coming back to this restaurant thrice.
Crème Brûlèe
means "burnt cream" in French, and is created by burning sugar under a blowtorch, resulting in the hard layer of caramel on top of the custard base. Because of Nexus' brilliant effort to add in oranges and orange zest, the whole
Crème Brûlèe
was jazzed up, becoming an unique dessert to die for.
VERDICT
Due to its location, Nexus Gourmet is usually loaded with office crowds in the afternoon, but quite unpatronized at night. It may not be a bad thing though, because it could always become a good spot to celebrate special occassions more privately. (Birthdays, anniversaries, etc.) Service here is very warm and friendly, and yet they do not charge anything for that. Yes! The prices on the menu are nett, meaning GST and service charge absorbed. And for that kind of (extremely) reasonable pricings, you get incredibly delectable food. We seriously recommend this restaurant to all!
Nexus Gourmet
161 Telok Ayer Street, S(068615)
(+65) 6223 3376
Mon - Sat: 11.30 a.m. to 9.30 p.m.
Sun: 1.30 p.m. to 9.30 p.m.
PH: Usually Closed
http://nexusgourmet.blogspot.com
| | |
| --- | --- |
| Food: | |
| Ambience: | |
| Value: | |
| Service: | |