From baked rice / pastas, to curry chicken, to dim sums, to pork chop, to sandwiches / burgers, to mee sua / noodles, etc etc; there were so many different choices in Xin Wang's menu that I felt completely lost. After a long internal struggle, I decided to settle down on just toasts.
Of all, why order a few pieces of flour? Cause I couldn't really spot any dishes that exclaimed "uniquely Hong Kong". Moreover, I felt that most of the dishes here, I could get better bets elsewhere, for equal or even lower prices.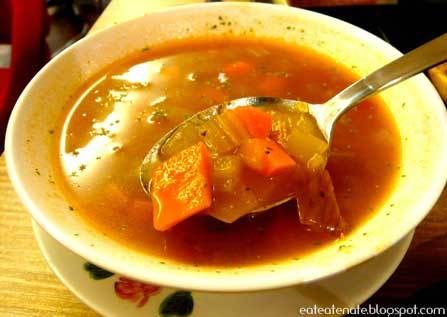 Borsch Soup, S$2.90++,
You would appreciate this if you are a fan of vegetables. Carrots, celery ribs, onions, boiled in a sour combination of tomato paste. An oriental version of minestrone soup, but in a much more diluted state.
Po Lo Pao, S$1.90++,
They always speak about the famous buttered pineapple buns in Hong Kong dramas, and I didn't knew they literally do insert a slice of pineapple inside. However, the
Po Lo
bun itself wasn't quite up to my expectations - the top crust wasn't the usual hard and sugary ones I like, and the butter was so well hidden I could have missed it.
French Toast, S$3.90++,
Coated with a layer of beaten egg, then deep fried to golden crisp, this
French Toast
is among the popular dishes here in Xin Wang.
Thick Toast
was fluffy and moistened with the right amount of butter, while the maple syrup just rounded it up in lingering sweetness.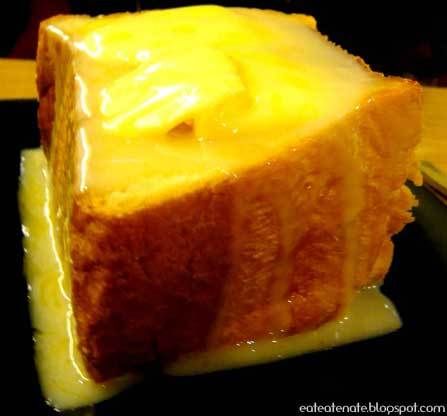 Condensed Milk and Butter Thick Toast, S$3.90++,
The exaggerating butter eliminated almost every possible trace of the condensed milk. Inside of the toast was far too brittle - one slice of the knife crumbled it totally. What ended up with was a pool of liquid
butter
oil and plenty bread crumbs.
VERDICT
The amount of butter was one big issue here - inconsistency. Too much, it makes the whole thing sick and greasy. Too little, it doesn't bring out the fragrance and moisture of the toast. I'm not in any position to comment much about the main courses, but so far the ones I've tried (in the past) were average only. Like I mentioned earlier, there are better finds out there. Xin Wang is too much of an all rounder to specialise in something really delicious.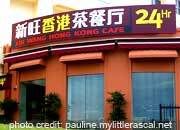 Xin Wang Hong Kong Café - Kovan
#01-133/135, Heartland Mall
205 Hougang Street 21, S(530205)
(+65) 6487 3481
Mon - Thur: 11.00 a.m. to 2 a.m.
Fri - Sun: 24 hours
http://www.xinwang.com.sg
| | |
| --- | --- |
| Food: | |
| Ambience: | |
| Value: | |
| Service: | |