One of the regular favourites among our families, because the food portions served here makes it nice for sharing (in a group).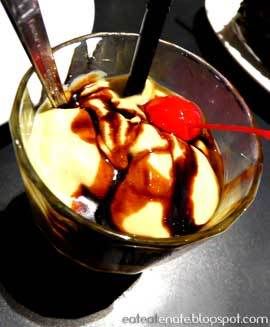 Avocado Shake, S$4++,
Thick avocado goodness, very sweet together with the
Gula Melaka
(sugary sap from a coconut tree). Do bear in mind however, to stir the mixture well before drinking, else you would end up like us, enduring the bottom half in sulking bitterness.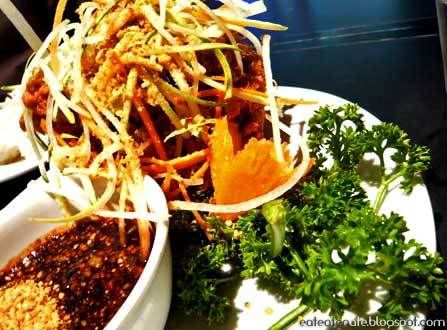 Tahu Telur, S$8.50++,
Imagine a 'anti-tofu eater' desperately grasping for more of this after the first try. It was that great. Hot silky beancurd underneath a layer of crispy deep fried skin, plus a dive into the sticky peanuty sauce - fantasitc!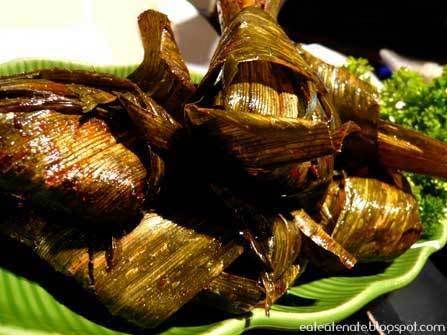 Pandan Chicken (6 Pieces), S$17++,
A must try when you come to Bali Thai! As you unwrap the pandan leaves, one unique tender and succulent kind of chicken was born. Fall deep in love with the enchanting pandan fragrance, which comes with each mouthwatering bite.
Pineapple Rice, S$9.50++,
Half a pineapple fruit used as a 'bowl' for better relation to the dish, but that 'bowl' was also the only source of pineapple. No cut pineapple chunks at all - you have to dig out the hard flesh from the walls, and it really was a bother. Fried rice itself was was rather typical.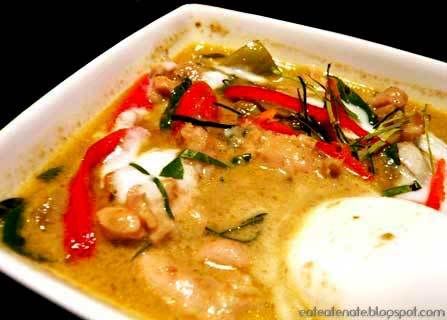 Green Chicken Curry, S$11++,
One of the best
Green Curry
we've tasted. It was thick with appropriate amounts of coconut milk and spices, which flaunted the strong ambrosial flavour of the curry and chicken slices.
VERDICT
Balinese and Thai cuisine are often associated with high levels of spicyness. An added bonus for people who appreciate hot food, but for those who do not, Bali Thai still whips up equally delectable non-spicy dishes.
Bali Thai - IMM
#01-21, IMM Building
2 Jurong East Street 21, S(609601)
(+65) 6560 5660
Mon - Sun: 11.30 a.m. - 10 p.m.
| | |
| --- | --- |
| Food: | |
| Ambience: | |
| Value: | |
| Service: | |