Fancy enjoying a great meal and at the same time, having a portion of your money spent being donated to the charity? This has to be the restaurant for the big-appetites and the big-hearted.
Modern Japanese setting, with some disturbing unsightly pipes filling the entire ceiling.
Tonkotsu Ramen, S$8.80++,
This dish,
Char Siew Ramen
in creamy pork soup, emits a rather foul (pork) stench, making it quite a big turn-off. Okay, let's put my sensitivity towards such smells aside. Looks alone, the
Char Siew
was disgustingly dull and grey; and taste wise, the soup was watery and insipid. The only 'edible' stuff was the
Ramen
(and the hard-boiled egg?)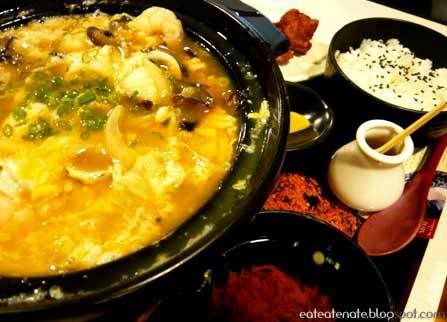 Seafood Toji Set, S$18.80++,
Mixed seafood consisting of the usual prawns and fish slices, cooked in sweet egg sauce over slow fire. Pickles, crispy fried chicken, and
miso
soup were served as sides next to a bowl of Japanese rice.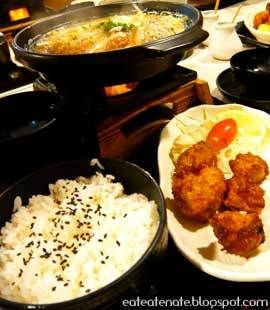 Katsu Toji Set, S$17.80++,
This
Katsu Toji Set
, somehow tasted nicer than the
Seafood
version. The deep fried breaded pork brought out the lushest of the sauce, and it was sheer pleasure shoveling broiling food straight out from the claypot and into our tummies. Simply conduct a headcount of the people in the restaurant ordering this set, and you'll find out its popularity in no time.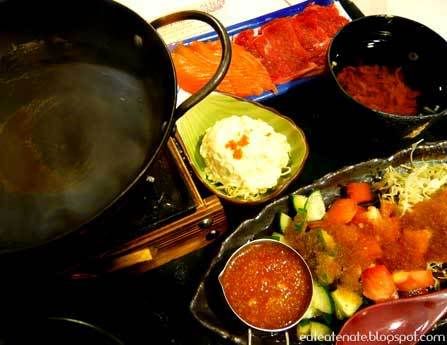 Surf and Turf Shabu Set, S$16.80++,
Shabu-shuabu
is a Japanese variant of hot pot, where it uses thinly sliced meat and vegetables, usually served with dipping sauces.
In this case, sliced salmon and premium New Zealand beef were served with Japanese radish and homemade apple sauce.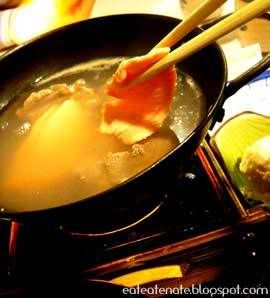 A first time trying out
Shabu-shabu
, and it was an instantaneous regret. We're not sure if there was supposed to be stock soup in other restaurants, but this is definitely PLAIN boiling water. The meat were totally tasteless, and they were real weird when accompanied by the sour apple sauce. (If they were even supposed to compliment each other in the first place.)
Anyhow, for every set meal you purchase, you just have to top up an additional S$3 for any dessert costing to a maximum of S$6.50.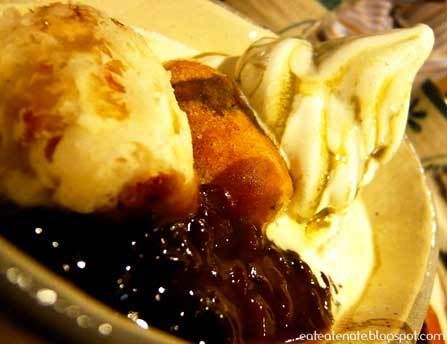 Matcha Mixed Imo, S$3++,
From our highly recommended section, comes this
Imo
, a marriage between hot and cold dessserts. The best way to truly indulge in this is to spoon a bit of the Japanese sweet potato, the yam, the Hokkaido soft serve with green tea sauce, together with the red bean paste, and gobble everything down. Indescribably
oishii
!
Matcha Shake, S$3++,
Upon the first sip, the distinct
Matcha
taste of the thick milky shake overwhelmed us, sending chilling seizures all the way down to our stomachs. Explicitly toothsome - you just can't wait to down it till the very last bit.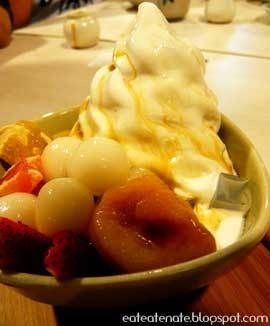 Shira Kuri Mitsu, S$3++,
Hokkaido soft serve with green tea sauce, topped with a mass of sweetened fruits and Japanese
Kanten
Jelly. To surmount the completely unflavoured
Kanten
Jelly, honey is poured generously over them before consuming. However, the restaurant seemed to have overdone it, making this dessert ridiculously sweet to enjoy.
Strawberry Gelato Mini, S$3++,
Another crazily sweet dessert, with nothing really special about it.
VERDICT
Our first love with MOF was when we first tried the
Matcha Gelato
at its dessert kiosk located at the basement of Raffles City Shopping Centre. And after giving a go at their main courses, though we do not have much complains, we still commonly agree that MOF stands out more in their desserts.
Ministry of Food @ My Izakaya - Bugis Junction
#02-45, Bugis Junction
200 Victoria Street, S(188021)
(+65) 6338 6466
Sun - Thur: 10.30 a.m. - 11 p.m.
Fri - Sat: 10.30 a.m. - 12 a.m.
http://www.ministryoffood.com.sg
| | |
| --- | --- |
| Food: | |
| Ambience: | |
| Value: | |
| Service: | |