Been ages since we wanted to check out the fondue at Häagen-Dazs, and it seemed that the price really soared up higher unknowingly.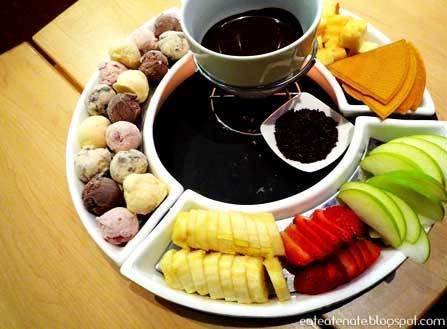 Chocolate Fondue, S$43.90++,
A pot of rich dark chocolate sitting over slow warmth from a tealight candle, served together with 16 mini scoops of Häagen-Dazs' renowned ice cream - chocolate, strawberry, vanilla, and cookies and cream. Those were the four default flavours and they could not be exchanged for others. Very sad, but we reasoned out that perhaps other flavours might not suit the fondue well.
Fresh fruits are also not a kind to be missed when it comes to fondue, and here we had slices of strawberries, bananas and green apples. The third section of the dish were filled with wafer biscuits, chocolate wafer rolls, and cheesecake cubes. And finally, we chose chocolate rice over crushed nuts as dippings.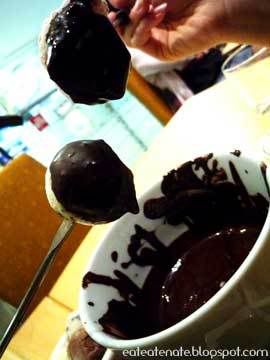 Chocolate sauce wasn't too gloppy or runny, and it was fun dunking the ice cream balls into the pot, then let the chocolate solidify before gorging them down.
VERDICT
One time and it's over. In our opinion, the fondue was way overpriced and we wouldn't be paying another 50 odd dollars for such a fondue again. We'd say, go for the less expensive ones especially with so many competitors and choices around. Even if you really love the ice cream from Häagen-Dazs, we suggest you get a whole pint instead. Much worthier!
Another point to add, we were quite pissed with the service at Junction 8 branch. The staff made a total of three attempts to clear our plates and "chase us out" half an hour before closure, when we were not even done yet.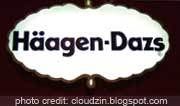 Häagen-Dazs - Junction 8
#03-09, Junction 8
9 Bishan Place, S(579837)
(+65) 6255 4839
Mon - Sun: 10.30 a.m. - 10 p.m.
| | |
| --- | --- |
| Food: | |
| Ambience: | |
| Value: | |
| Service: | |