Get a taste of Hokkaido without having to spend a lump sum travelling there? There we were, squeezing in the fun on the second last day of the Hokkaido Fair.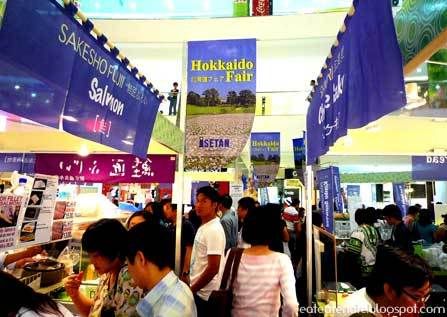 The human congestion was ostensively insane, not any lesser than those seen in I.T. and mega food / travel fairs. Singaporeans really do follow the whiff of good food.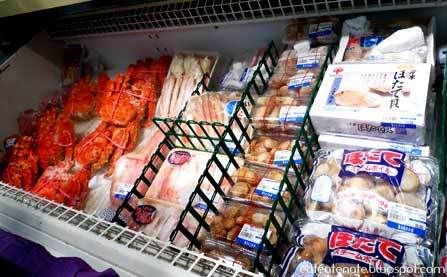 The
Boiled Taraba Crab
s (on the far left) is sure a delicacy to one's stomach, as well as an expensive S$130 bomb to one's wallet.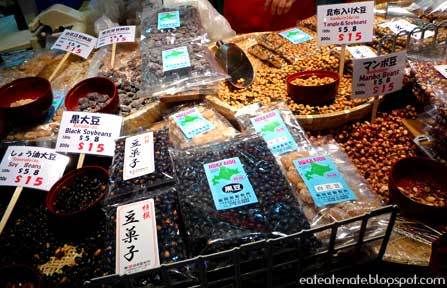 Sea of healthy Japanese beans.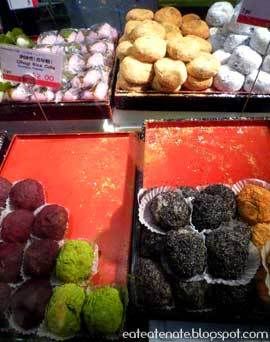 Mochi
s, or also what known as rice cakes, are made from pounding glutinous
Mochi
rice till soft, then molded into spheres or cubes and filled with (usually) bean pastes.
Green like "The Hulk", soft like a jelly, we present you the
Green Tea Mochi
.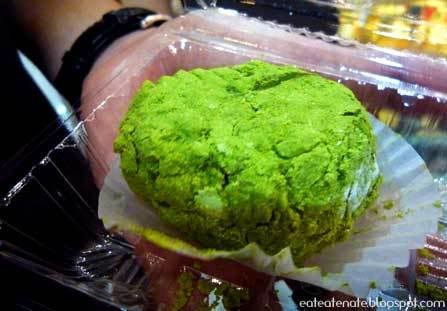 Green Tea Mochi, S$2 nett,
Just a gentle reminder, this is strictly a green tea lover snack, because once bitten, the heavily coated green tea powder will flood your entire mouth with its dry bitterness, and reveal its hearty red bean paste center.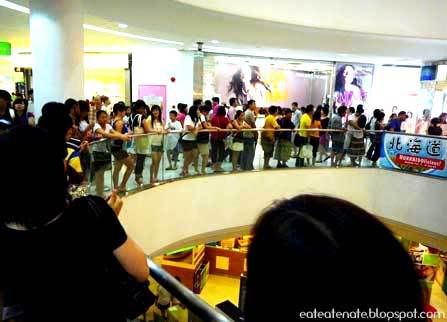 Voila! The outstanding long queue caught our attention, and we too joined in the wait for..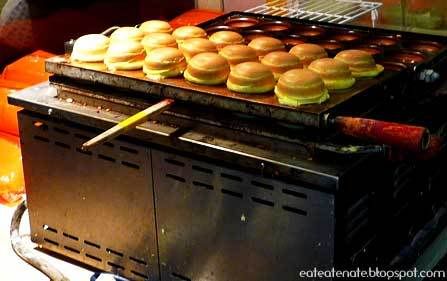 these
Butter Manju Cake
s!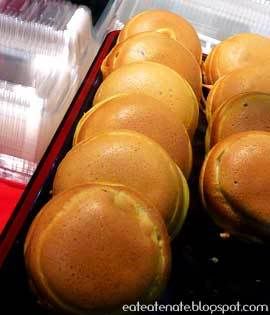 Butter Manju Cakes (10 Pieces), S$11 nett,
Being "true" Singaporeans, we were 'kiasu' enough to buy 20 pieces at one go to make our one hour queue worthwhile. The pancakes came two flavours, namely red bean and custard.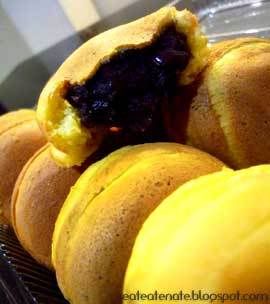 The touch of these bouncy cakes simply urges you to pop them into your mouths and start chewing right away.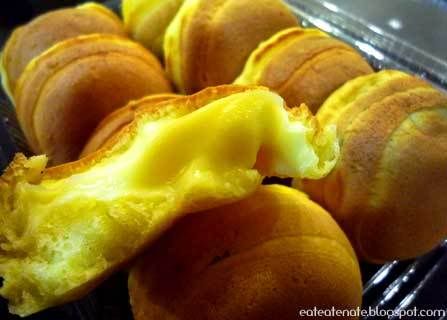 Both flavours are unique to each of its own. The red bean one felt more coagulated with substance, while the custard one is more of the rich and smooth kind.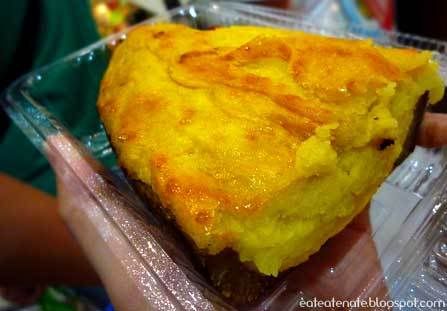 Grilled Sweet Potato, S$6.85 nett (According to Weight),
What you are seeing now is not the any one kind of
Sweet Potatoes
selling in the streets. Behold and beware, this is bounteously loaded with custard inside and highly addictive. The prolonged sweetness of the potato chunk, and the chilling custard that flows with every nibble dangles you for more of it!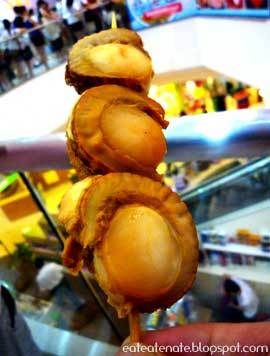 Grilled Scallop, S$5.20 nett,
Rubbery when cold, the
Grilled Scallop
is best eaten piping hot from the grill, where the savoury seafood freshness and aromatic sauce spurts madly in all directions inside your mouth.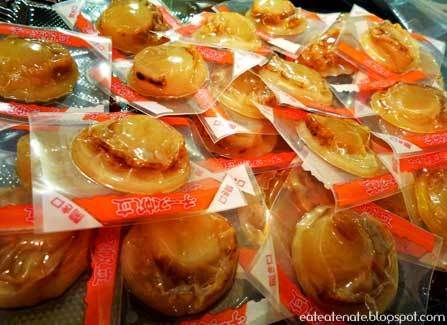 Soft Grilled Scallop with Cheese (200gm), S$36 nett,
Even in dried form, these Japanese scallops are still OMFG yummy, if not, yummier! By fishing the second last packet explains how popular these dried scallops are despite the steep pricing.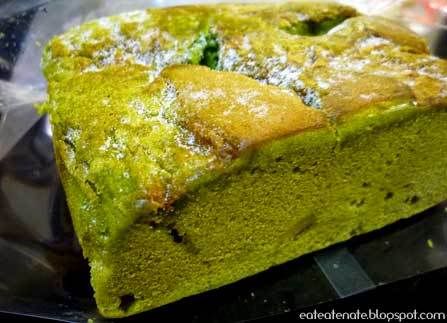 Shinori Matcha Cake with Chestnut,
S$10.45 nett (According to Weight),
You are having the best of two worlds within a single join of this green tea and cheese synthesis. Dense and tight, yet not too heavy to take; bits of soft hidden chestnuts pile on to the sweet surprises.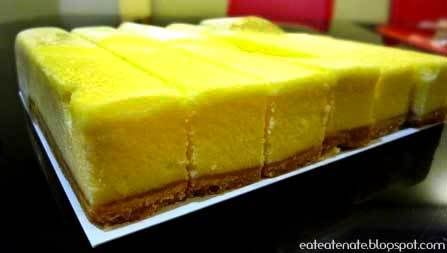 Rich Stick Fromage (6 Pieces), S$15 nett,
If you think that Beard Papa cheese cake sticks are one of the best, wait till you try this. We never had one with such full-blown superiority before! Fluffy yet firm, the cheese has a tinge of loveable sourness and upon the caress of your tongue, the cake melts into globs of satiny cream. Ultimately a dessert to die for!
VERDICT
Thinking of trying it? Sadly to say, all left behind are just memories kept in our hearts and taste buds, because we won't have the chance of trying these again until the next Hokkaido Fair in 2009. Till then...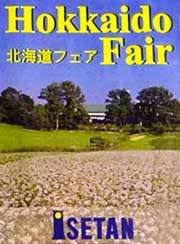 Hokkaido Fair 10th Anniversary
Level 1 (Atrium), Tampines Mall
4 Tampines Central 5, S(529510)
Presented by Isetan: 4 - 13 July 2008
http://www.isetan.com.sg
| | |
| --- | --- |
| Food: | |
| Value: | |